Tiffany Cuts Earnings Forecast After Holiday Sales Decline
by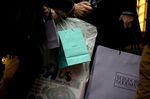 Tiffany & Co., dragged down by sluggish tourist spending and a strong dollar, cut its full-year profit forecast after reporting a drop in holiday sales.
Net earnings will decline about 10 percent in the fiscal year that ends this month, the New York-based jeweler said in a statement Tuesday. It previously predicted a drop of 5 percent to 10 percent.

The results renewed concerns that the shaky global economy is taking a toll on luxury retailers like Tiffany. The company's stores in New York and other U.S. cities saw weaker spending from foreign visitors, and the dollar's gains eroded Tiffany's sales overseas. Hong Kong and Singapore also suffered "significant weakness" during the holidays, the company said.
"Overall sales results were negatively affected by restrained consumer spending tied to challenging and uncertain global economic conditions," Chief Executive Officer Frederic Cumenal said in the statement.
The stock fell 5.1 percent to $64.22 at the close of trading in New York, the biggest one-day drop in more than a year. Tiffany's shares are coming off a 29 percent decline in 2015.
Globally, net sales fell 6 percent to $961 million during the holiday period, which includes November and December. The company expects the difficulties to continue in the coming year, resulting in minimal growth in net sales and net earnings.
Here to Stay
"The tourism issues are not going to change any time soon as the dollar continues to strengthen," said Brian Yarbrough, an analyst at Edward Jones & Co. "It's gotten more competitive, and it's very difficult in the holiday time frame."
Sales in November and December in the Americas fell 5 percent from the same time a year earlier, excluding currency fluctuations. On that basis, sales rose 4 percent in Europe and 12 percent in Japan, while they fell 6 percent in the Asia-Pacific region.
Tiffany may also have lost holiday sales to competitors that discounted their products more heavily, Yarbrough said.
"Even though it's not close to the quality of Tiffany, people think they're getting a great deal," he said.
Before it's here, it's on the Bloomberg Terminal.
LEARN MORE