Poland Faces Barrage as Defiant Leaders Collide With Europe
by
Prime minister defends laws on top court and media freedom

Bonds and zloty pare losses but investors wary after downgrade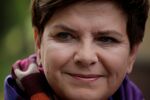 There's a new combative force in Poland, and the world just took notice.
After almost a decade of harmony with the European Union mainstream and inexorable economic growth fueled by free-market reforms, the nine-week-old government in Warsaw is at the center of the continent's latest standoff. Investors and credit rating agencies are altering the way they look at the country.
The risk is now an escalating confrontation that might threaten investment in Poland, which absorbed $67 billion of EU aid since the last change of power in 2007 and where foreigners hold $51 billion of its local-currency bonds.
Four days after a first-ever downgrade by Standard & Poor's sent bonds and the zloty tumbling, Poland's central bank chief called a proposed law on mortgages "pure evil." European lawmakers then debated whether the country flouted democratic rule of law after the EU called for an investigation. Prime Minister Beata Szydlo shows no signs of buckling.
"Investors should be concerned, not about the downgrade, rather about the valid reasons for the downgrade," said John Hardy, head of foreign-exchange strategy at Saxo Bank A/S. "The government is doing some things that could suddenly affect investor flows, particularly foreign capital, and risks to banks."

Butt Out
The Law & Justice party of Jaroslaw Kaczynski and late twin brother Lech returned to power after eight years by pledging to stand up for ordinary Poles and redefine its national interests within the EU.
Controversial policies include parachuting present and former party officials into top posts at public television and state-owned companies as well as overhauling the country's constitutional tribunal. That makes it harder for judges to rule against its law changes, sparking repeated public protests in Warsaw and other Polish cities.
Szydlo, Kaczynski's pick for premier, stood firm in a speech to the European Parliament in Strasbourg on Tuesday, telling lawmakers they had no place interfering in Polish politics and her government upholds the rule of law.
"History taught us that Polish problems should be solved in Poland, as we have always ended badly when others tried to do it for us," she said. "Opinions about Poland, which are unfair and unjustified, are a result of misinformation and in some cases of bad will."
Polish Discord
While the economy burgeoned by 24 percent during the previous Civic Platform administration, Law & Justice tapped into widening regional gaps in prosperity and discord over whether European integration enriched the political elite more than the nation. Kaczynski's party triumphed on Oct. 25 with a parliamentary majority few polls had predicted.
Clashes have been brewing since then, and this week the gloves came off after the S&P downgraded the country to BBB+, the third-lowest investment grade. The rating agency cited concern about the independence of key institutions.
EU President Donald Tusk, who was Polish prime minister from 2007 to 2014, said the cut was unfair, but there was no doubt the country's image had been shaken. He said at a press conference that Poland's credibility depends on events in Warsaw, not Brussels, if the country returns to the "dark side" of political life a quarter-century after emerging victorious from communism.
Crisis Recipe
Central Bank Governor Marek Belka upped the ante. He said draft legislation to convert $42 billion in foreign-currency mortgages into zloty is a "recipe for a banking crisis" that could weaken lending and economic growth, still among the fastest in the EU.
"Over the last three months, Law & Justice has driven Poland into higher and higher costs, both in terms of loss of image abroad and those stemming from its reduced credit rating," said Anna Materska-Sosnowska, a political scientist at Warsaw University. "What's worse, is that these costs will only escalate."
Financing started looking more expensive after bond yields jumped by the most since September 2014. But it's still more of wake-up call than a crisis, investors say.
The zloty, among Europe's worst-performing currencies this year, fell 0.6 percent in Warsaw after rising the previous two days. It slumped 2 percent to a four-year low on Friday in reaction to the S&P downgrade. The yield on euro-denominated bonds due in January 2026, which Poland sold last week, rose nine basis points to 2.06 percent. They have surged 45 basis points since the rating cut.
"Financial markets are alerted now," Patrick Haefeli, strategy analyst at St Galler Kantonalbank AG. "And they will be watching policy changes very closely."
Before it's here, it's on the Bloomberg Terminal.
LEARN MORE