Pimco Goes on Defensive in China's Bond Market as Economy Slows
by
Spajic favors services, Internet and non-cyclical sectors

Yield premium on China dollar notes jumps to October high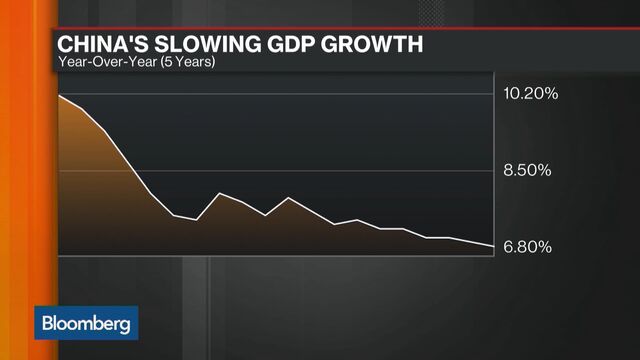 Pacific Investment Management Co. is favoring offshore bonds from Chinese issuers least affected by the slowest economic growth in a quarter century.
The extra yield on dollar-denominated notes from the nation's borrowers over Treasuries has risen seven basis points this year to 277, the highest since October, according to Bank of America Merrill Lynch indexes. The cost of protecting Chinese sovereign debt from default spiked 20 basis points, the worst start to a year in data going back to 2008, as a weakening yuan triggered a selloff in developing-nation assets.
"We will have a more defensive strategy for China credits this year," said Luke Spajic, a portfolio manager in Singapore at Pimco. "We don't expect to see much additional foreign demand for Chinese credits, given that there are other opportunities in both developed and emerging sectors that have cheapened significantly."
Data released on Tuesday showed China's economy growing at two speeds, with old rust-belt industries from steel to cement in decline, while consumption, services and technology start to dominate. Though Chinese President Xi Jinping has welcomed the transition, he also needs to avoid runaway delinquencies, staunch a rout in equities and stem capital outflows that are weakening the yuan. Last year started with a default by property developer Kaisa Group Holdings Ltd. and ended with China Shanshui Cement Group Ltd. reneging on debt in November.
Economy Revamp
Pimco likes bonds from the services, Internet companies and non-cyclical industries, according to Spajic. The Chinese government is pushing to revamp the economy toward more sustainable growth driven by non-industrial sectors. Data Tuesday showed factory production increasing 5.9 percent in December from a year earlier, almost half the pace of the 11.1 percent jump in retail sales. Services accounted for 50.5 percent of output in 2015, the biggest component for the first time.

While the cooling economy has added to strains on corporate finances, growth at China's level of 6.9 percent in 2015 still compares favorably to most other major economies globally, said Mark Reade, Hong Kong-based analyst at Mizuho Securities Asia Ltd.
Defaults Eyed
"Most Chinese dollar bond issuers are well-placed to weather slowing growth," Reade said. "A large proportion are state-owned enterprises which will continue to benefit from government support, while many others are property developers which are in decent shape due to rebounding contract sales and onshore bond market access."
China's property companies have been taking advantage of falling onshore yields since authorities permitted them back into the local bond market in 2014 following a ban. A real estate recovery is spreading to more cities after authorities rolled out easing measures targeting regions with a surplus of unsold homes. New-home prices climbed in 39 cities in December, up from 33 in November, among the 70 cities tracked by the government.
As broader concerns in the nation's credit markets linger, Western Asset Management Co. is preparing for the increased risk of defaults and volatility in the year ahead, said Desmond Soon, Singapore-based head of investment management in Asia outside of Japan. The company, which manages about $450 billion, is avoiding illiquid local-currency corporate bonds in Asia and favoring more active dollar notes from issuers that will have ready buyers for their assets in the event of non-payment.
Market Turbulence
"It's kind of a minefield if you step on a Kaisa or a Shanshui," said Soon. "Chinese home builders have been quite well supported because the inventory is quite clear, a piece of land, a building, so usually there is a white knight that will bail you out at the right price but with a cement factory or a steel mill the collateral may be less valuable."
Turbulence in the country's financial markets and currency is raising the risk of a financial crisis in the nation. China's benchmark Shanghai Composite has tumbled 26 percent in the past six months as the yuan has fallen 5.6 percent against the dollar. The currency's slide has spurred capital outflows that have forced the central bank to inject liquidity to hold down borrowing costs.
Western Asset's Soon says that demand and supply for China's dollar bonds has been very tight with Chinese investors diversifying into this debt and companies buying back their own securities.
That situation could change as the government moves to curb capital outflows, said Gaurav Singhal, a credit analyst at Nomura Holdings Inc. in Hong Kong. 
"This would temper a strong positive technical support that has supported Chinese credits over the last one year," said Singhal.
Pimco is forecasting lower Chinese economic growth this year than the market expects, according to Spajic.
"Old economy credits will struggle this year," he said.
Before it's here, it's on the Bloomberg Terminal.
LEARN MORE