Pakistan Duo Zips From Riyadh to Tehran in Bid to Broker Peace
by and
Pakistan prime minister visits Riyadh, Tehran with army chief

Prime Minister Nawaz Sharif calls for peace, Muslim unity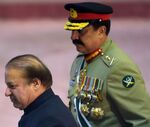 Pakistan's prime minister and army chief arrive in Iran on Tuesday directly from Saudi Arabia as they seek to contain tensions that threaten to aggravate sectarian violence in the region and at home.
Pakistan's shuttle diplomacy builds on its efforts to broker peace between Sunni-ruled Saudi Arabia and Shiite-majority Iran since relations between the Middle Eastern powers broke down earlier this month.
In a meeting with Saudi King Salman Bin Abdul-Aziz on Monday in Riyadh, Pakistani leader Nawaz Sharif expressed "deep concern" over the escalation in tensions, according to a statement from the prime minister's office. Sharif called for a resolution "in the larger interest of Ummah," referring to the Arabic word for the broader Muslim community.
Saudi Arabia, which hosted Sharif in exile when he was ousted by the military in 1999 and has close ties with the South Asian nation, may have asked Pakistan to get involved, said Pinak Ranjan Chakravarty, a former Indian diplomat who served in both Saudi Arabia and Pakistan.
China, France
"Pakistan may be trying to build a profile for itself," said Chakravarty, who is now a distinguished fellow at the Observer Research Foundation in New Delhi. "They can give it a try. But I doubt that Iran will accept mediation by Pakistan. After all, Pakistan is majority Sunni and its affinity to Saudi Arabia is greater." 
As the conflicts in Syria and Yemen increase tensions between Iran and Saudi Arabia and the focus of U.S. foreign policy shifts to Asia from the Middle East, the standoff between the two Middle East powers is drawing a flurry of diplomatic actors to the region.
Chinese President Xi Jinping left on Tuesday for a five-day trip to Saudi Arabia, Egypt and Iran, seeking to flex his diplomatic clout and protect Chinese influence that accumulated in Iran during the country's long isolation. French Foreign Minister Laurent Fabius is also set to arrive in Riyadh on Tuesday to meet King Salman, while Iranian President Hassan Rouhani is due to visit Paris next week. 
Military Power
Sharif's travel companion, General Raheel Sharif, underscores the seriousness of Pakistan's effort. The leaders, who are unrelated, plan to meet in Tehran on Tuesday with Rouhani. Pakistan's military has ruled the country for most of its history, and plays a powerful role in shaping foreign policy.
"Pakistan has good reason to talk to both sides," said Neelam Deo, director of Gateway House, a Mumbai-based policy research group. Iran has already built its end of a pipeline intended to carry gas to Pakistan, and the lifting of sanctions could help bring international funding -- possibly from China -- for Pakistan to finish the job, she said.
Pakistan also wants to show Saudi Arabia it remains supportive after refusing to assist the kingdom's bombing campaign on Shiite rebels in Yemen. Still, Deo said, actual mediation remains a long way off and "Iran doesn't have a shortage of suitors."
Pakistan, which is home to the most Shiites outside Iran, risks triggering domestic sectarian violence if it's seen picking sides. Thousands of people, mostly Shiites, have been killed by al Qaeda-linked Sunni militants, who also traverse the 800-kilometer (500-mile) border to orchestrate attacks inside Iran.
"It's not in Pakistan's interest to join one group at the expense of the other," said Talat Masood, a former lieutenant general and defense analyst based in Islamabad. "We don't want to antagonize Iran."
Before it's here, it's on the Bloomberg Terminal.
LEARN MORE