Oil's Slump Hands Profits to Russian Steelmakers as Ruble Slides
by
Dollar revenues curbing ruble costs dropping faster than steel

Gains may be temporary as worsening economy curbs local demand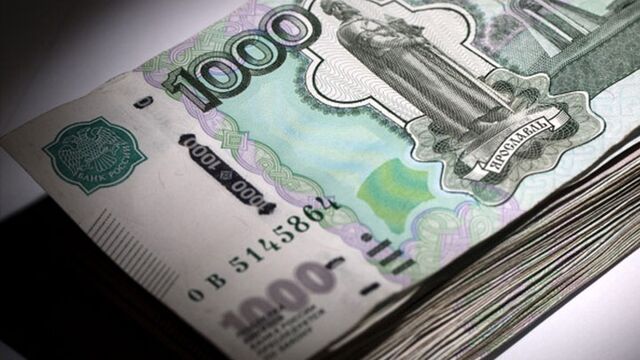 Slumping oil prices that are starving Russia of export revenue, and pushed the ruble to a record low this week, are boosting earnings for the nations' steelmakers -- at least for now.
Novolipetsk Steel OJSC, Russia's largest producer, and Severstal PJSC are benefiting as their costs in rubles fall relative to dollars they get from sales abroad, according to BCS Financial Group and Deutsche Bank AG. While steel prices have tumbled amid a global glut, the ruble is sinking even faster as the slide in oil to a 12-year low hurts the economy.
Russia relies on oil and petroleum products for almost half of its exports. About half of the government's budget also depends on the oil and natural gas industries, forcing President Vladimir Putin's government to weigh austerity measures as prices slide.
"The lower the oil, the better it is for the steel names," George Buzhenitsa, a Dubai-based Deutsche Bank analyst covering Russian metals and mining, said by phone.

The ruble weakened almost 9 percent this year and touched a record low of 80.92 rubles against dollar on Wednesday. The current rate will help to boost earnings before interest, taxes, depreciation and amortization for NLMK, as Novolipetsk Steel is known, and Severstal by more then 15 percent, according to BCS Financial Group calculations. Profit margins on exports of hot-rolled coil, a benchmark steel product, have climbed to about 20 percent, from an eight-year low of 3 percent in October, when oil and the ruble were trading at higher levels, BCS said.
The ruble is the "only savior" for steel exports that were barely breaking even in October, according to Kirill Chuyko, head of equity research at BCS Financial Group. As recently as three months ago, steel prices were dropping faster than the currency, Deutsche Bank's Buzhenitsa said.
Short-Lived Gains
Even these gains may be short-lived, Chuyko said. The weaker oil price is hurting the Russian economy, resulting in weaker domestic demand for the producers' steel. The country's largest steel mills earn more from local sales as prices are higher than abroad.
Still, domestic prices have started to fall, losing 2 percent to 6 percent last week, while there is a premium of $34 per ton over the exported price, Alfa Bank said in a Jan. 18 research note. This may decline in the short term due to the weaker ruble and a lack of activity in Russia's construction industry because of the cold weather.
NLMK reported on Tuesday that its fourth-quarter sales dropped 9 percent from the previous three months to 3.8 million metric tons on lower demand in Russia and the U.S.
Evraz Affected
Not all Russian producers are gaining from the weak ruble, with companies such as Evraz Plc, Russia's second-biggest steelmaker, dependent for sales on domestic consumers in such industries as construction.
Evraz's plants in Siberia face transport costs that are too great for it to gain from export markets, Chuyko said. The company is also suffering as it produces long steel, used by construction companies hit hard by the Russian economic slump, according to the analyst.
Evraz said last week it was considering suspending workers and cutting hours for administrators and managers at its largest Siberian unit as steel prices keep declining.
"Low oil prices and the weaker ruble are helping Russian steelmakers for now," said Dmitry Popov, an analyst at CRU Group. However, "export margins for Russian steel will be low due to strong competition on the global market and a continuing price slump."
Before it's here, it's on the Bloomberg Terminal.
LEARN MORE