New York's Super-Fast Wi-Fi Is Live, and Free
A dispatch from the future.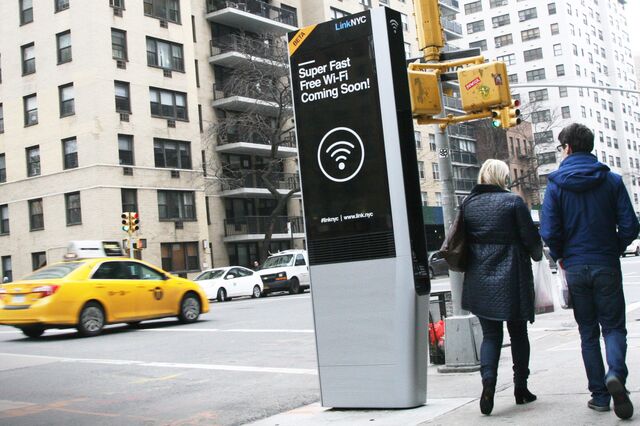 Source: CityBridge
Want to watch Cats in HD on YouTube, with no buffering or disruption, free, while walking the streets of New York? If you're strolling a four-block sliver of Manhattan's Third Avenue, you can, thanks to CityBridge, a consortium of companies that on Tuesday launched four super-fast WiFi hubs branded as Link NYC.
The one-gigabit kiosks started offering free Internet services, in beta, at 8 a.m. on a bitterly cold Tuesday morning. Six other kiosks will go online during the next few weeks. In the meantime, CityBridge will erect more 9.5-foot-tall pillars throughout the five boroughs, first along Eighth Avenue, then up to northern Manhattan and into the Bronx. The initiative plans to install 7,500 such hubs around the city over the next eight years. In addition to Web services, the kiosks offer free phone-charging ports. Eventually they will offer free phone calls and a tablet for Web browsing. 
Connecting to the network from a device works the same as with any public Wi-Fi: Visit settings, Wi-Fi, LinkNYC Free Wi-Fi, and that's it. CityBridge says the one-time process should continue to function whenever you walk near any Link anywhere in the city. There's also an option to access an encrypted version of the network, which takes slightly more effort but is highly recommended by Miles Green, director of infrastructure engineering at Intersection, the technology and design company that created the hubs. Intersection's parent company is Sidewalk Labs, run by Dan Doctoroff, chief executive officer, former deputy mayor of New York under Michael Bloomberg, and former CEO of Bloomberg LP, which owns Bloomberg Business. "As good citizens of the internet, we want to encourage people to use secure connections," Green said on Tuesday morning as he sat in a Starbucks about 30 feet from a Link on the corner of 15th Street and Third Avenue. 
Once connected, the Link NYC Internet is indeed very fast. Speed tests show upload and download speeds of more than 300 megabits per second. By comparison, download speeds on the Bloomberg office Wi-Fi come in at around 105 Mbps, with upload speeds at around 73 Mbps. In other words, waiting for Cats in HD (or its sequel, Cats in HD II) to load took what felt like no time. The cats' whiskers looked crisp, and the video played with no stuttering or blurring.
Link NYC can handle more extreme surfing. "I'm embarrassed to say that I went to download a 21 minute Jersey Shore clip, and it happened so quickly that I wasn't able to show you," Green said. A Jersey Shore after show took Green less than 30 seconds to download. The system can function much faster than most home Internet connections. Green said it took his wife about a minute and a half to upload a batch of photos from a digital camera, a process that took two and a half hours in his home.
The connection is guaranteed to serve a 150 foot radius, but it could extend as far as 400 feet in open terrain, generally a rarity in New York. The signal from the kiosk directly outside Starbucks worked perfectly, even through the glass. Local businesses might choose to take advantage of this if Link NYC proves reliable and robust. "It will be interesting to see over time whether stores just provide Wi-Fi through Link," said Jennifer Hensley, Intersection's general manager. "I think it will take some time to figure out how that works. We went to all the stores and were telling people about it." 
Hattan Cleaners, whose storefront has a perfect view of Link, doesn't anticipate ditching its Internet provider. "The Wi-Fi that we need doesn't have to be the fastest, it just has to be on all the time," said Vicky Dai. "We're not sure if the Wi-Fi will be stable all the time." Notwithstanding promises of an encrypted network, Dai expressed concerns about security. "Our computer has personal information of our customers, so we really try not to use a popular one, in case." 
It will take some time to see how people and businesses use Link. Green imagines a world in which people sidle up to the kiosks to upgrade their device's operating system, rather than wait around at home. Maps and Yelp seem obvious contenders.
So far, one thing is clear: Free isn't a sufficiently enticing deal to get New Yorkers to charge their phones or explore new Wi-Fi options, on a bel0w-freezing January morning. Most people speed-walked right past the shiny new Internet hub. 
(
Corrects statement that CityBridge is city-funded in first paragraph.
)
Before it's here, it's on the Bloomberg Terminal.
LEARN MORE