N.J. Transit Trains Break Down at Rate Four Times U.S. Average
By
Mechanical failures most since 2010 as riders pay higher fares

Christie continues budget shift to cover day-to-day expenses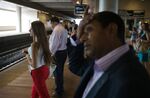 New Jersey Transit commuter trains failed four times more than the U.S. average in 2014, as Governor Chris Christie continued diverting equipment funding to cover day-to-day expenses.
The railroad, the nation's second-largest by ridership, recorded 213 major mechanical failures, according to figures posted Friday by the National Transit Database. That was 19 percent more than in 2013 and the most in at least four years. Nationally, 24 commuter railroads had an average 52 major failures in 2014.
New Jersey residents, who have one of the country's longest average commutes, have been forced to pay more for mass transit as delays and breakdowns increase. In the year ended June 30, trains went an average 83,815 miles (135,000 kilometers) between breakdowns, the worst performance in at least four years, according to New Jersey Transit figures.
Only the Massachusetts Bay Transportation Authority, serving greater Boston, had more breakdowns than New Jersey Transit in 2014, with 219 recorded, according to the database.

Nancy Snyder and Jennifer Nelson, spokeswomen for New Jersey Transit, didn't respond to e-mails or a telephone message seeking comment on the figures.
The data ratchet up pressure on transportation funding for New Jersey, which will use the last of an $8 billion authorization for highway and rail spending by June 30. Christie, a Republican running for president, hasn't presented a successor plan, resisting Democratic legislative leaders who say a gasoline-tax increase is the only way to generate needed revenue.
New Jersey Transit in October raised bus and rail fares an average 9 percent, as Christie's use of capital funds to cover operating costs failed to address a funding gap. Since 1990, governors from both parties have shifted $6.6 billion from the equipment account for expenses including salaries and benefits.
The fleet's average age will climb to 20 years in 2019, oldest in at least nine years.