Morgan Stanley Sees Limited Prospects for Bond Trading
by
Job cuts are `effectively done,' CFO Jonathan Pruzan says

RWAs for fixed-income business will drop below $110 billion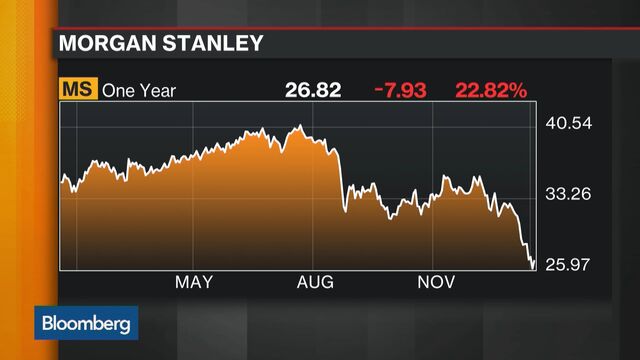 Morgan Stanley pared its fixed-income trading operation last quarter after concluding the outlook for the business is poor, though job cuts are "effectively done," Chief Financial Officer Jonathan Pruzan said.
"That revenue pool for the industry has been shrinking, it's continued to shrink, and we came to the conclusion that we thought the prospects for that revenue pool rebounding anytime soon was very limited," Pruzan said Tuesday in an interview.

Chief Executive Officer James Gorman, 57, is attempting to strike the right balance in Morgan Stanley's bond-trading business amid a years-long revenue slide for the industry. The bank said last month that it was taking a $150 million severance charge as it pared the business. The cuts affected 1,200 employees, including about a quarter of the fixed-income trading staff, a person briefed on the matter said.
"The business itself was really staffed for a better operating environment, a better trading environment," Pruzan said in the interview. "We took out some excess capacity, but we also closed down some desks that were really not strategic to the firm."
Specific areas the company trimmed or shuttered include currency trading outside of the G-10 group, sovereign credit-default swaps, Asia distressed securities and commodities, executives said Tuesday.
"The net of it will be more of a U.S.-focused business, a slimmer business when it comes to some of the macro products," Gorman told analysts Tuesday during a conference call.
Fixed-income trading revenue fell 8.2 percent to $550 million in the fourth quarter, excluding one-time items, a steeper drop than many analysts had estimated and the second-lowest since the financial crisis. David Konrad, an analyst at Macquarie Securities USA Inc., had projected revenue of $580 million and Matt Burnell of Wells Fargo & Co. estimated $607 million.
Morgan Stanley last week named Sam Kellie-Smith, who helped the bank become Wall Street's top equities-trading shop by revenue, to revamp fixed income -- a segment where tighter capital rules have pushed out several rivals. Kellie-Smith is the sixth manager to take on that challenge in the past seven years.
Risk-weighted assets in fixed income will drop to less than $110 billion from $136 billion as of Dec. 31, the firm said in a presentation on its website Tuesday. A year ago, the target was $180 billion for the end of 2015.
Before it's here, it's on the Bloomberg Terminal.
LEARN MORE