Morgan Stanley Posts Quarterly Profit as Revenue Beats Estimates
by
Adjusted profit of 43 cents a share tops analysts' estimates

Revenue climbs 5.3% as equity-trading revenue increases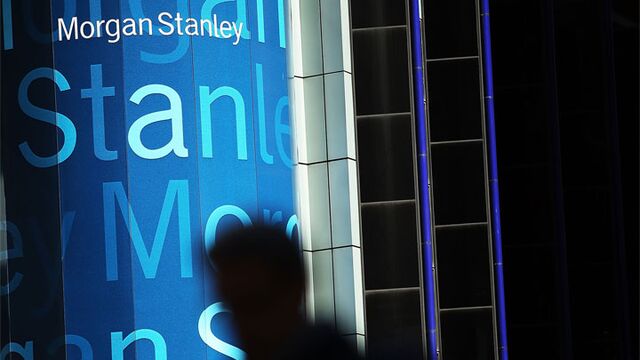 Morgan Stanley reported $908 million in fourth-quarter profit and a revenue gain that exceeded analysts' estimates as equity trading rose and expenses fell. The firm said it failed to meet its goals for revamping the fixed-income business.
Net income was $908 million, or 39 cents a share, compared with a loss of $1.6 billion, or 91 cents, a year earlier, when the firm booked costs tied to litigation over mortgage-related matters, the New York-based company said Tuesday in a statement. Excluding accounting adjustments, earnings were 43 cents a share, beating the 32-cent average estimate of analysts surveyed by Bloomberg.

Chief Executive Officer James Gorman, 57, is attempting to strike the right balance in Morgan Stanley's bond-trading business amid the industry's years-long slide in revenue. The firm said last month that it was taking a $150 million severance charge as it pared its fixed-income trading business. The cuts affected 1,200 employees, including about a quarter of its fixed-income trading staff, a person briefed on the matter said.
"A strong overall performance in the first half of the year was impacted by difficult market conditions in the second half that dampened trading activity," Gorman said in the statement. "In the fourth quarter, we took action to meaningfully restructure our fixed-income business on a capital and expense basis."
Share Rise
The firm set a target for return on equity of 9 percent to 11 percent for 2017, compared with Gorman's longstanding goal of at least 10 percent. Last year's ROE was 7 percent, excluding accounting adjustments and a tax benefit.
Morgan Stanley climbed 3.4 percent to $26.85 at 7:11 a.m. in New York. The shares had tumbled 18 percent this year through Friday, trailing the 10 percent decline for the 88-company Standard & Poor's 500 Financials Index. Societe Generale SA downgraded the investment bank to sell last week, citing lowered expectations for trading revenue.
Excluding accounting charges, revenue climbed 5.3 percent to $7.9 billion, exceeding the $7.67 billion estimate of 20 analysts surveyed by Bloomberg. Costs fell across the company. Non-compensation expenses plunged to $2.6 billion from $5.6 billion a year earlier, when it had a $3.1 billion litigation charge. Expenses for employee pay shrank to $3.7 billion from $5.1 billion, even including the severance costs.
Fixed-income trading revenue fell 8.2 percent to $550 million in the fourth quarter, excluding one-time items, a steeper drop than many analysts had estimated and the second-lowest since the financial crisis. David Konrad, an analyst at Macquarie Securities USA Inc., had projected revenue of $580 million and Matt Burnell of Wells Fargo & Co. estimated $607 million.
The firm last week named Sam Kellie-Smith, who helped Morgan Stanley become Wall Street's top equities-trading shop by revenue, to revamp fixed income -- a capital-intensive area that several rivals have been retreating from in the face of tougher rules. Kellie-Smith is the sixth manager to take on that challenge in the past seven years.
Equities-trading revenue rose to $1.8 billion from $1.6 billion, higher than all four estimates by analysts surveyed by Bloomberg.
Colm Kelleher, 58, was promoted to president earlier this month, adding oversight of the retail brokerage in addition to investment banking and trading. That prompted the exit of Greg Fleming, 52, who led the brokerage.
Before it's here, it's on the Bloomberg Terminal.
LEARN MORE