Millennials, Here's What Your First Home Might Look Like
A homebuilder aims to entice young buyers with adaptable space and an outdoor kitchen.
By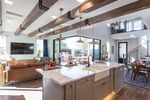 The contemporary farmhouse, designed for buyers age 35 and younger, has an open plan design, an outdoor kitchen, and a suite of rooms accessible by a side entrance. That way, the owner can take on a lodger or, if she decides to start a family, give the tenant the boot and reincorporate the rental space into the home.
Is that what millennial homebuyers want?
It's one idea. Pardee Homes, a subsidiary of Irvine, Calif.-based Tri Pointe Group, built the concept home to show off at the National Association of Home Builders trade show in Las Vegas this week. Its estimated price tag in the "mid-$300,000s" makes it more expensive than a traditional starter home in the Las Vegas market. In return for the higher price, Pardee is selling the idea of a home that can serve young buyers from one life stage to the next.
"Millennials are really interested in customizing their space," said Klif Andrews, president of Pardee's Las Vegas division. "We designed the house so that over time, it can be remodeled for minimal investment."

Andrews said the Responsive Home, which is how Pardee is branding the farmhouse along with a second, upmarket concept called a "contemporary transitional," evolved based on years of research. In addition to incorporating spaces that are "preengineered" for easy adaptation, the houses are built for outdoor entertaining, Andrews said. They sacrifice closet and cabinet space for living areas because "research shows millennials are not big acquirers."
There was a time not so long ago when many in the real estate business worried that millennials—scarred by the housing crisis, drawn to apartment living in big cities—might never buy homes at the rate of earlier generations. Those fears seem to have dissipated, mostly because millennials keep telling pollsters that they want to buy homes and that actually, living in the suburbs wouldn't be so bad.
Still, the generation has been slower to enter the housing market than previous cohorts. That's probably because they're starting families later in life and because income growth hasn't kept up with rising home prices.
Can the idea of adaptable space persuade young buyers to take the jump? Pardee will get some feedback this summer, when it starts completing homes based on the Responsive Home concepts—about 80 of each in the Las Vegas area. 
The traditional starter home—smaller, cheaper, and further from the city center—is also making a comeback.
Watch Next: Money Survival Tips for Millennials