Hong Kong's Missing Booksellers Expose Publishing Underbelly
by and
`Upstairs bookshops' offer salacious texts on Chinese leaders

Thinly sourced titles cater to information-starved mainlanders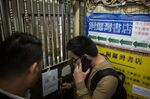 Sandwiched between a pharmacy and a discount clothing store in Hong Kong's Causeway Bay neighborhood is a narrow staircase leading to a shuttered bookshop that has become a symbol of the fears of China's encroachment in the former British colony.
Causeway Bay Books is one of the city's best known "upstairs bookshops," which sell titles such as "Overseas Mistresses of the Chinese Communist Party," and "Secrets of Wives of CCP Officials" to mainland tourists hungry for the salacious and often thinly sourced tales about the alleged peccadilloes of their leaders. Outside hangs a sign in Chinese warning would-be customers to "watch out for police."
The store, located in the shadows of one the world's priciest shopping districts, has been shut since late December when its owner Lee Bo vanished from the city. With Hong Kong authorities pressing for information, Chinese police confirmed Jan. 18 that Lee was in the mainland, without explaining how the bookseller got across the border without the required travel permit or the knowledge of Hong Kong immigration.
"A disappearance off the streets raises questions in ordinary people's minds about the future of Hong Kong and whether its distinctive qualities with which most Hong Kong people identify will be maintained," said Michael Davis, a Hong Kong University law professor.
Lee was the fifth person linked to the bookshop and its main publisher, Mighty Current, to disappear, in a signal that Chinese authorities may no longer be willing to turn a blind eye to the sensational books that his industry turned out.
The trigger of the disappearances may have been an upcoming book on the private life of President Xi Jinping, until now a taboo subject even for the publishers of the raciest titles, according to Willy Lam, a Hong Kong-based author whose book "Chinese Politics in the Era of Xi Jinping" isn't available on the mainland.
The industry emerged after Beijing loosened travel restrictions to Hong Kong to try to help the economy after the city's SARS epidemic. Demand for the books surged in 2012 when Politburo member Bo Xilai was detained for corruption, and his wife was arrested on suspicion of murder, prompting a slew of sensational titles.
More scandals followed as Xi's anti-corruption campaign gained momentum, pulling back the curtain on high-living and graft by top party officials. One of the most popular destinations was The People's Bookstore, whose red and white sign highlights two products in short supply on the mainland: banned books and milk powder.
"Everybody was hungry for gossip and scandal, and the publishers knew that," said part-owner Paul Tang.
Like The People's Bookstores, many of the outlets are near Russell Street in Causeway Bay, which as recently as 2013 boasted higher rents than Manhattan's Fifth Avenue. Mainland tourists flock to the district to frequent the luxury jewelers and up-market malls that are crammed cheek by jowl with dim sum shops, nail salons and foot-massage joints.
"We catered to the big spenders -- billionaires, the officials -- they all came," Tang said in his first floor store in Russell Street. "The women, they bought diamonds. The men? 'I've already got a Rolex, 10 Rolexes. I want to find some books.'"
Some shoppers see the books as more fantasy than fact. "By leafing through a few pages, you can just tell they're all fiction and made up," said a Beijing resident browsing some of the high-brow titles at the store, who identified himself by his last name Wang. "I wouldn't put my hands on one of those."
The disappearances of the booksellers have fanned fears that the tactics China uses to crush dissent on the mainland are being exported to Hong Kong. Thousands demonstrated outside China's liaison office on Jan. 10 to demand information about Lee, in one of the biggest protests in the city since pro-democracy activists led a three-month occupation of parts of central Hong Kong in 2014.
Lee is also a U.K. passport holder and the U.K. government joined Hong Kong in pressing China on his behalf, with Foreign Minister Philip Hammond saying Jan. 5 Lee should be tried in Hong Kong if accused of any crime. China's foreign minister, Wang Yi, said at the same briefing that Lee was "first and foremost a Chinese citizen."
The first to go missing was Gui Minhai, one of the most prolific authors of the books. He vanished in October in Pattaya, Thailand. Gui turned up on Chinese state-controlled television on Jan. 17 saying he had turned himself in to police to answer for a 2004 drunk driving accident. China's Xinhua News Agency reportedGui was also linked to other crimes.
"It is possible that they might think that Mr. Gui is in possession of other materials that might threaten the reputation of Xi Jinping or some other top guys in Beijing," said Lam.
A China-born Swedish national with a master's degree from the University of Gothenberg, Gui sometimes churned out 10 of the books a year, always under assumed names, according to Bei Ling, an exiled Chinese author and president of the China chapter of PEN International. Gui began his career penning academic titles, before shifting to focus on the personal lives of Chinese leaders when the market began taking off in Hong Kong, said Bei, who has known Gui since 1984.
The fallout from the cases has cast a pall over sections of Hong Kong's publishing industry. Jin Zhong, chief editor of Open Books, said he dropped plans to publish "Xi Jinping's Nightmare" by dissident writer Yu Jie. Yu also penned "China's Godfather, Xi Jinping" whose chapters include "Xi Jinping is 100 times more stupid than Napoleon III."
"I don't want to be a second Lee Bo," Jin said about his decision. "There is now an atmosphere of fear in Hong Kong society at large, especially felt in the publishing industry."
Before it's here, it's on the Bloomberg Terminal.
LEARN MORE