Hong Kong Dollar's Rout Sends a Surprising Message: Buy Equities
by
City's equities are at lowest relative valuations since SARS

``If you take a one- to two-year view, you make money": Baring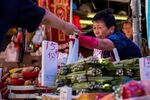 Baring Asset Management Ltd. is eyeing Hong Kong stocks at the lowest valuations in more than a decade, betting that the city's slumping currency make this an unexpectedly good time to buy equities.
The Hong Kong dollar, which is allowed to trade in a range versus the greenback, last week posted its steepest two-day drop since 1992 as investors pulled money out of the city amid concern about China's economy. The Hang Seng Index sank to a three-year low, and is trading at the cheapest multiple versus global shares since Hong Kong's outbreak of severe acute respiratory syndrome in 2003. For Baring Asset, the currency's decline shows that sentiment is at a negative extreme, and purchasing stocks now will ultimately prove a smart decision.
"It's like 2008, 2010, 2011 -- when you look at the Hong Kong dollar over that period, it also hit those levels," said Khiem Do, head of multi-asset strategy at the fund manager in Hong Kong. "It was very volatile during that period but you did make money after that. You have to take a long-term view."

After the Hong Kong dollar's slump in May 2010 to a 1 1/2-year low, the Hang Seng Index bottomed within a week and jumped 31 percent to a peak in November of that year. In 2011, the Hang Seng Index bottomed in October, two months after the currency's trough, then embarked on a 33 percent rally through February 2012. Do's bullish stance this time contrasts with Core Pacific Yamaichi International Hong Kong Ltd., which sees little chance of outflows from the city's assets abating, and Linus Yip at First Shanghai Securities Ltd., who expects the weak economic environment to drag stocks lower.
Weaker Currency
The Hong Kong dollar weakened 0.41 percent last week to HK$7.7950 versus the dollar. The city's currency trades within a range of HK$7.75-HK$7.85 against the greenback. Its slide is a reflection of money leaving the city's lackluster stock market and shifting to assets in the U.S. or Japan, said Ronald Wan, chief executive of investment bank Partners Capital International Ltd. The Hang Seng Index tumbled 3.8 percent at the close, while the Hong Kong currency traded as low as HK$7.8243 against the dollar, the weakest since August 2007.
A rout in mainland stocks and volatility in the yuan, combined with concerns about the economic outlook on both sides of the China-Hong Kong border, dragged the Hang Seng Index 10 percent lower this year through Tuesday. A gauge of Chinese companies took an even bigger hit, falling 13 percent. The Hang Seng Index trades at 9.8 times estimated earnings, 24 percent below its 10-year average and 31 percent less than the multiple on an index of global stocks, data compiled by Bloomberg show.
"It's a very cheap market right now so one just needs the confidence to return," Baring's Do said, noting that sentiment still remains weak around the world. "We are looking at number of undervalued companies to add to the portfolio."
China Concern
It may take time for investor confidence to return because China's economy is slowing and its equity markets continue to experience problems, said Mikio Kumada, a Hong Kong-based global strategist at LGT Capital Partners. The Shanghai Composite Index slipped back into a bear market last week, falling more than 20 percent from its December high.
A sharp drop in the Hong Kong dollar usually means a stocks outflow cycle is nearing its end, said Kenny Tang, chief executive officer of Jun Yang Securities Co., who expects the Hang Seng Index to reach a bottom soon.
"The index is already down a lot," said Tang. "Although the market is worried, I don't think funds will flow out too much from the Hong Kong market."
The Hang Seng Index may rise about 25 percent by year-end from Tuesday's closing level, with Hong Kong's government likely to roll out stimulus to support growth, according to HSBC Holdings Plc.
"We've seen Hong Kong experience this and will be able to ride through it," said Baring's Do. "When you buy into the time of crisis you have to be prepared to accept the short term volatility. If you take a one- to two-year view, you make money."
Before it's here, it's on the Bloomberg Terminal.
LEARN MORE