business
Hollande No Schroeder as `Jobs-Emergency' Response Is Non-Event
By
French president's proposals seen as pre-election moves

A record 3.6 million people are looking for work in France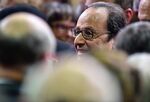 President Francois Hollande's tepid plan to counter his self-declared "state of emergency" on unemployment suggests his effort to revive the French economy is petering out as he sets his sights on re-election next year.
Proposals announced Monday include 2 billion euros ($2.2 billion) in incentives for small companies to hire low-paid workers and support for training as stubborn jobless figures threaten his bid for a second mandate. What they don't do is offer the sort of overhaul of the French labor market that former Chancellor Gerhard Schroeder pushed through in Germany a decade ago in what became known as his Hartz IV reforms.

"The plan doesn't exactly have the ring of Hartz IV," said Bruno Cavalier, an economist at Oddo Securities in Paris. "These are the same old tricks that French governments have used for decades. My great worry for France in 2016 is that we're getting into the pre-election period and there is no desire to take political risks to fix the economy."
With a record 3.6 million people looking for work in France, Hollande himself has acknowledged that the lack of job creation poses an obstacle to his re-election just over a year from now. Since being elected in May 2012, the Socialist president has overseen changes to labor laws that make it easier to cut jobs, clamped down on government spending and last year pushed through an omnibus economy bill that eases restrictions on everything from Sunday shopping to inter-city bus travel.

Emmanuel Macron
Those efforts were masterminded by Emmanuel Macron, first as Hollande's economic adviser and later as his minister of the economy and industry. Macron's strategy was to tackle the issues constraining growth in politically digestible steps rather than confronting the nation with changes that would drive workers into the streets in protest.
The government's latest efforts, however, veer away from tackling the big underlying issues stifling the French economy, according to Gilles Moec, chief European economist at Bank of America Merrill Lynch.
"It's good to train people, it's nice to reduce the cost of hiring for small companies," Moec said. "But this skirts the real issue of the structure of the labor market."
Multiple Contracts
For Moec, effective changes would include tackling the split in employment between short-term job contracts that offer no security and long-term ones that provide almost iron-clad guarantees, as well as addressing an unemployment insurance system that provides little by way of incentives for beneficiaries to return to work quickly.
"All of this is super-consensual" among economists and policy makers, he said.
Polls show that even the French voters Hollande is trying please have little faith in his ability to achieve a meaningful reduction in unemployment from its current 18-year high of 10.6 percent.
About 77 percent of the electorate says Hollande's emergency plan will do little to cut unemployment, according to an Odoxa poll of 1,011 people taken before the announcement on Jan. 14 and 15.
Falling Popularity
Meanwhile, Hollande's personal popularity is dropping. An Ipsos survey for Le Point magazine shows 29 percent of the respondents approve of Hollande, a level that brings him close to his March 2013 rating. Support for Hollande surged after the November terrorist attacks and returned to normal level already in January.
The next French presidential election will be held in two rounds in April and May of 2017.
Hollande is "trying to improve the unemployment statistics to ensure he can be a candidate," Cavalier said. "It's not very encouraging for the prospect of reforms in 2016."
Before it's here, it's on the Bloomberg Terminal.
LEARN MORE