Cnooc to Cut Oil Output First Time Since 1999 Amid Plunge
by
Oil and gas production seen falling as much as 5% this year

Capital spending reduced by more than 10% to $9.1 billion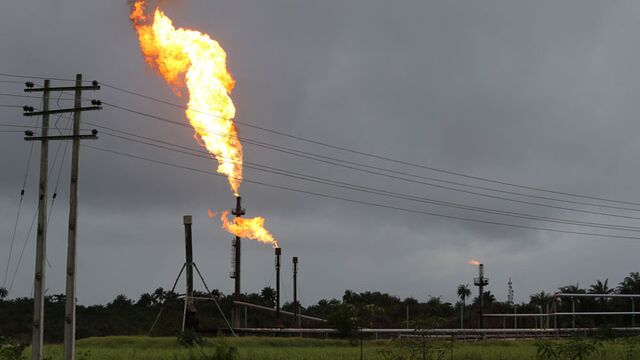 Cnooc Ltd., China's biggest offshore oil and gas producer, plans to trim output for the first time in more than a decade as it cuts spending to cope with oil's plunge below $30 a barrel.
The Beijing-based explorer will produce 470 million to 485 million barrels of oil equivalent this year, slipping from 495 million in 2015, it said in a statement to the Hong Kong stock exchange Tuesday. That would be the first decline since at least 1999. The company said it will spend a maximum 60 billion yuan ($9.1 billion), down from last year's 67.2 billion yuan.
Total spending last year missed the company's original target, highlighting how producers have struggled with oil's plunge to a 12-year low. The price collapse has delayed $380 billion worth of investments on 68 major upstream projects, according to industry consultant Wood Mackenzie Ltd., and has forced suppliers from BHP Billiton Ltd. to BP Plc to write down the value of assets and fire workers.
"Higher-cost oil producers, including Chinese explorers, are beginning to hold back output because they cannot beat the super-low crude prices," Tian Miao, a Beijing-based analyst at North Square Blue Oak, a research company, said by phone. "It's easy to understand why Chinese explorers such as Cnooc are reducing investment and production, because their costs are much higher than what the crude market is providing."
Cnooc's production won't reach 2015 levels for at least two more years. It's targeting output of 484 million barrels of oil equivalent in 2017 and 502 million in 2018. The company plans to start four new projects this year while drilling 115 exploration wells, it said. The lower-end of the company's production target sets output this year at about 1.29 million barrels a day, a drop of more than 68,000 barrels a day.
Cnooc shares closed up 4 percent to HK$7.01 in Hong Kong. The stock dropped 23 percent in 2015, compared with a 7.2 percent decline in the city's benchmark Hang Seng Index. Brent crude prices have slumped more than 70 percent in the last 18 months, dipping below $28 on Monday after international sanctions on Iran were lifted, paving the way for increased oil exports.
"With the decrease in capital expenditures, the company expects to achieve the whole-year targets by cost control and efficiency enhancement," Cnooc said in the statement.
Before it's here, it's on the Bloomberg Terminal.
LEARN MORE