BofA Falls After Revenue Growth Seen Elusive, Oil Loans Sour
By
Revenue growth will be `challenging,' CFO Paul Donofrio says

Fourth-quarter net income climbs $9.4%, beating estimates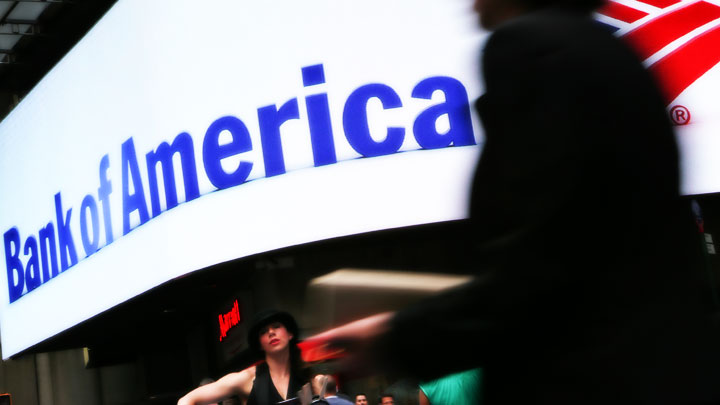 Bank of America Corp. was among the worst performing U.S. lenders after saying it will struggle to increase revenue and reported expense cuts that at least one analyst said didn't go far enough.
The shares slid 1.8 percent to $14.20 at 1:58 p.m. in New York, the second most in the 24-company KBW Bank Index. The stock has fallen 16 percent in 2016, the weakest start to a year since the financial crisis.

Revenue growth will be "challenging," even as the U.S. economy improves, Bank of America Chief Financial Officer Paul Donofrio said Tuesday on a call with analysts. The Charlotte, North Carolina-based lender increased its provisions for credit losses in the quarter by $264 million, mainly because of falling oil prices. The firm's exposure to energy loans was $21.3 billion, or 2 percent of the total outstanding, with exploration and oilfield services companies comprising the bulk of the lending, Donofrio said.
"As we continue to assess and react to future changes in the energy sector, we could see lumpiness that could potentially drive provision expenses over $900 million," Donofrio said.
Efficiency Ratio
Expenses in the fourth quarter fell 2 percent to $13.9 billion from a year earlier. Since 2010, Bank of America Chief Executive Officer Brian Moynihan has cut costs the most of competitors as low interest rates and volatile markets stymie revenue growth. Still, the bank's efficiency ratio, a measure of how much it costs to produce $1 of revenue, came in at 68.6 percent for 2015, compared with 57 percent for Citigroup Inc. and 57.8 percent for Wells Fargo & Co.
"We can drop that down to 65" percent, Moynihan said on the conference call. "And then it's just hard work and we're grinding away every day. You should see improvement in 2016."
Christopher Kotowski, an Oppenheimer & Co. analyst, said the bank's expenses are "still way too high."
"Moynihan's commentary was that the 2015 results were the best in nearly a decade," Kotowski said in a note to clients. "That may be true, but we are still more struck by how far BAC still has to go to generate a competitive level of profitability," he said, referring to the company's stock ticker.
Fourth-quarter net income increased 9.4 percent to $3.34 billion, or 28 cents a share, from $3.05 billion, or 25 cents, a year earlier, the bank said in a statement. Excluding accounting adjustments and some one-time items, profit was 29 cents a share, beating the 27-cent average estimate of 27 analysts surveyed by Bloomberg.
(An earlier version of this story corrected the spelling of Moynihan.)