'Star Wars' Ticket Sales Cross $100 Million at China Box Office
by
`The Force Awakens' trails `Avatar' as biggest all-time film

China seen becoming world's biggest movie market by next year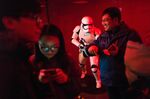 Walt Disney Co.'s "Star Wars: The Force Awakens" led China's box office for a second week, pushing ticket sales in the world's second-largest movie market past $100 million.
The seventh installment of the space epic created by George Lucas generated 658.9 million yuan ($100.2 million) at 14:20 p.m. local time Tuesday, after debuting in China earlier this month, according to researcher Entgroup Inc.
Disney is counting on China to bolster earnings from the epic after buying the "Star Wars" franchise in 2012 and announcing plans to make more installments. While the latest episode slipped from first place to third this past weekend in the U.S., Nomura Holdings Inc. estimates it will bring in $230 million over its full run in mainland China cinemas.
China, where ticket sales grew almost 50 percent last year, is seen by analysts as becoming the biggest movie market in the world as soon as 2017. The last three "Star Wars" movies, released in China between 1999 and 2005, generated less than $20 million in ticket sales in the country, according to Box Office Mojo.
Before it's here, it's on the Bloomberg Terminal.
LEARN MORE