Third Term
Clinton, Sanders Fight for Title of Obama's Heir in South Carolina
The front-runner portrays herself as a defender of the president's signature health care law.
By , , and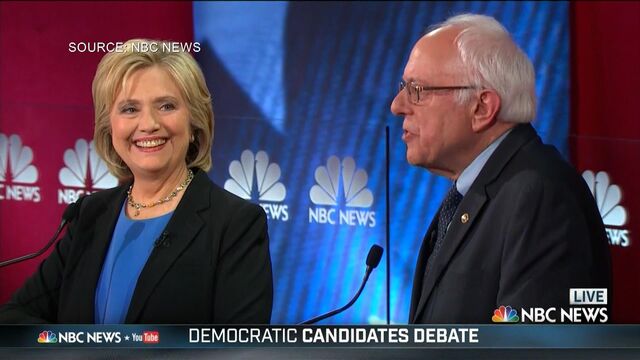 Hillary Clinton tightened her embrace of President Barack Obama on Sunday as Bernie Sanders tried to tie her to Wall Street, in a Democratic presidential debate where leading rivals turned up the volume and sharpened their rhetoric as they faced off for the last time before Iowa caucus-goers cast the first votes in the 2016 election on Feb. 1.
"I don't take money from big banks; I don't get personal speaking fees from Goldman Sachs," Sanders said at the NBC News/YouTube Debate in Charleston, South Carolina, in a sharply personal jab at Clinton and her husband, former President Bill Clinton. "It's easy to say, well, I'm going to do this and do that, but I have doubts when people receive huge amounts of money from Wall Street."
Hillary Clinton, meanwhile, hammered Sanders on gun control. Recalling the racially motivated massacre of Charleston church-goers by a gun-toting white supremacist last year, she recited a litany of past Sanders votes against gun-control measures and extended a left-handed compliment to him for his announcement the day before that he would back a bill to lift legal immunity on gun manufacturers and sellers whose wares are used in crimes.
"I am pleased to hear that Senator Sanders has reversed his position on immunity," she said.
But it was over health care that the two candidates fought most vigorously over the Obama mantle. Seeking to appeal to the same constituency that voted for Obama's message of change in 2008, Sanders called for a "political revolution" and unveiled one piece of that hours before the debate—a plan that would dismantle the nation's private insurance system in favor of a Medicare-for-all system paid for by raising taxes.
Clinton meanwhile portrayed herself as a defender of Obama's signature health care law, saying that Sanders' universal health care plan wouldn't pass Congress and threatened to dismantle the gains that the president had secured.
Former Maryland Governor Martin O'Malley, a distant third in polls, also participated in the debate, but struggled to break through.
While Sanders, a U.S. senator from Vermont, is poised to win the Feb. 9 primary in neighboring New Hampshire, Clinton, Obama's former secretary of state, sees strategic importance in winning Iowa on Feb. 1 and perhaps even more importantly, in setting up a firewall in South Carolina, which votes Feb. 27. Obama remains intensely popular among Democrats in both states—and, notably, both are states where Obama defeated Clinton in 2008.
South Carolina's high proportion of black voters, and the high-profile killing spree last year in Charleston at a black church, in which a white supremacist has been charged, both could work against Sanders, who has a mixed record on gun control and has struggled to make inroads with black voters. 
Clinton made another appeal to black voters in her closing statement by invoking the contaminated water crisis, and revelations of political inaction, in predominantly black Flint, Michigan. "I'll tell you what: If the kids in a rich suburb of Detroit had been drinking contaminated water and being bathed in it, there would have been action," she said. Sanders agreed, noting that he has also demanded the resignation of Michigan Governor Rick Snyder.
It was one of their few agreements of the night. More often their approaches emphasized how they are  going for different constituencies inside the party. Sanders is betting his prospects on populist anti-establishment anger while Clinton is appealing to Democrats who feel they have made gains under Obama—gains that, she argues, Sanders will jeopardize.
While earlier in the race Clinton kept some distance between herself and Obama on issues such the Trans-Pacific Trade Partnership and the Keystone XL pipeline, on Sunday she emphasized her support for the president, citing two of his legacy piece of legislation: the Affordable Care Act that expanded health insurance coverage, and the Dodd-Frank financial industry reforms.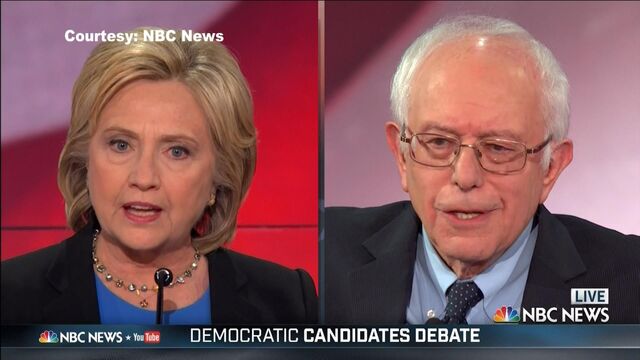 "I don't to want see us start over again with a contentious debate; I want us to defend and build on the Affordable Care Act and improve it," she said.
She also said that "President Obama's work to push through the Dodd-Frank bill and then to sign it was one of the most important regulatory schemes we've had since the 1930s. So I'm going to defend Dodd-Frank and I'm going to defend President Obama for taking on Wall Street, taking on the financial industry and getting results."
On Iran, Sanders and Clinton both embraced the international nuclear deal Obama pushed for, while Sanders indicated he would move faster than Clinton toward normalizing relations.
"The goal has got to be as we have done with Cuba to move and warm relations with a very powerful and important country in this world," he said.
Clinton said she is "very proud" of the Iran nuclear deal that "they have been so far following their requirements under the agreement." At the same time, she cautioned, "I think we still have to carefully watch them. We've had one good day over 36 years and I think we need more good days before we move more rapidly toward any kind of normalization."
Clinton campaign chairman John Podesta, in an interview after the debate, said Democrats must "make a decision about where Senator Sanders wants to go" and "whether he wants to go in a radically different direction" than Obama. Meanwhile, he said of Clinton, "she wants to build [on] and solidify" Obama's accomplishments.
Jeff Weaver, Sanders' campaign manager, said that "people remember, in 2008, if Secretary Clinton had her way, there would have been no President Barack Obama. She called him naive on foreign policy, the very foreign policy she was trying to credit for tonight."
"It was not a warm and fuzzy contest. People's memories aren't that short. They remember what went on in 2008."
Clinton, on the other hand, tried to remind the debate audience of 2011, when Sanders suggested Obama should have a primary opponent for his second term. Sanders did not address his effort to recruit a liberal to run against Obama but insisted he and the president get along.
"He and I are friends. We've worked together on many issues," the senator said, adding: "We have some differences of opinion."