U.K. Insider-Dealing Trial Zeros In on Six Stocks Traded
by
Five men on trial for alleged improper dealing in shares

Prosecutors say group earned 7.4 million pounds from trades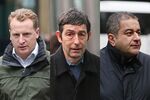 Sky Plc and Legal & General Group Plc are among stocks at the center of the U.K.'s highest-profile insider trading trial, where prosecutors alleged that five men made 7.4 million pounds ($10.6 million) from improper dealing.
A London jury was told Monday that the men, who worked as day traders and in the corporate-broking departments of big firms, shared inside information between 2006 and 2010 on six stocks, Mark Ellison, a trial lawyer for the prosecution said. The shares of Scottish and Newcastle Ltd., Paragon Group of Companies Plc, Just Retirement Group Plc and nCipher Plc were targeted.
Martyn Dodgson, a 44-year-old former managing director at Deutsche Bank AG, Andrew "Grant" Harrison, who worked at stockbroker Panmure Gordon & Co at the time of the alleged behavior, Benjamin Anderson, a 71-year-old private day trader, former Aria Capital Ltd. director Iraj Parvizi, and accountant Andrew Hind, 55, are accused of conspiring to trade securities with inside information.
Ellison took the jury through phone calls and trading records setting out how information was passed from Dodgson and Harrison to Hind, who then contacted Parvizi and Anderson to trade on it. Ellison said that while the group did a "pretty good job of hiding what they were doing," it was obvious from the patterns of contact they had conspired to profit on non-public information.
Telephone Calls
In the example of beverage-maker Scottish and Newcastle, the group traded shares in October 2007 at the same time Dodgson's then-employer Lehman Brothers Holdings Inc. was advising Carlsberg A/S on a potential takeover bid for it. Ellison showed the jury the open plan office where Dodgson sat next to a number of colleagues working on the deal and played recordings of Parvizi and Anderson placing buy orders shortly before a statement was made to the market by Carlsberg about its plans. The day before they purchased the shares Hind and Dodgson had spoken on the phone six times.
Parvizi and Anderson bought just over 33 million pounds of shares in Scottish and Newcastle and sold them for about 37.5 million pounds after Carlsberg's announcement pushed the price up, making a profit of about 4.4 million pounds. Notes from the trading found by the FCA showed about 562,000 pounds was given by the men to Andrew Hind, who then split the money with Dodgson.
The jury trial is being presided over by Judge Jeffrey Pegden and prosecuted by the U.K. Financial Conduct Authority.
Before it's here, it's on the Bloomberg Terminal.
LEARN MORE