Trump Ban Debate Comes to U.K. Parliament's Antechamber
by
Half a million signed petition calling for ban on candidate

Parliament agrees to discuss but has no power to refuse visa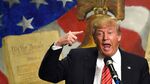 British members of Parliament began a debate about whether Donald Trump should be banned from the U.K., after acknowledging that they have no power to do so.
In an annex to the building, lawmakers discussed an online petition signed by half a million people calling for the candidate for the Republican presidential nomination to be denied entry for his comments about stopping Muslims from entering the U.S. Such a decision would be a matter for Home Secretary Theresa May, not Parliament. There'll be no vote at the end of the planned three-hour discussion.
Even the member of Parliament opening the debate in London Monday was doubtful as to the value of a ban.
"I think our best plan is not to give him that accolade of martyrdom in that way," Paul Flynn, a opposition Labour Party lawmaker from South Wales, told the session. "I think we may already be in error in giving him far too much attention in the way that this petition is singled on him but he has done some remarkable things which have caused a great deal of upset."
Before it's here, it's on the Bloomberg Terminal.
LEARN MORE