Tepco Turns to 'Toy Story' Claw to Inspire Fukushima Cleanup
by and
Toshiba-designed system invented for use at Fukushima

Tepco to begin removing debris, spent fuel in fiscal 2017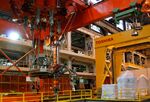 Tokyo Electric Power Co. and partner Toshiba Corp. have a new twist in mind to pluck out the debris and spent fuel in one of the buildings at the wrecked Fukushima atomic plant north of Tokyo.  
They'll use a collection of robotic arms and pulleys weighing nearly 200 metric tons that resemble the claw game featured in the Pixar-animated movie "Toy Story" when in motion.
The system, which was invented to deal with the Fukushima aftermath and has never been used at a nuclear power plant, is the latest example of the advanced technology Tokyo Electric and partners will need to tap over the course of the site's cleanup. 
Toshiba designed the new system to be controlled offsite, allowing employees to use joysticks to remotely grab debris, cut wires and move fuel.
"With the current radiation levels, it would be impossible to send people into the building to do any cleanup work," Isao Shirai, an official at Tokyo Electric, told reporters Monday in Yokohama where the partners demonstrated the retrieval system.
Installation of the Toshiba-designed equipment will begin this year, with an eye to start up in fiscal 2017. The removal process is expected to take two years, according to Tokyo Electric's Shirai.
Before it's here, it's on the Bloomberg Terminal.
LEARN MORE