Tata Steel Cuts More Jobs in Blow to U.K.'s Shrinking Industry
by
Tata will lose 1,050 jobs, with majority going in South Wales

CEO says difficult conditions to last for foreseeable future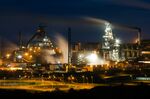 Tata Steel Ltd. will cut another 1,050 jobs in the U.K. in the latest blow to the country's rapidly shrinking industry.
South Wales will bear the brunt of the reductions, with the company announcing 750 losses at its Port Talbot site. Another 300 positions will go at Corby and Hartlepool in England. In October, Tata announced 1,200 job cuts and closed its Redcar plant. Sahaviriya Steel Industries Pcl also shut a plant in northern England in September with the loss of about 2,000 staff.
"These tough actions are critical in the face of extremely difficult market conditions, which are expected to continue for the foreseeable future," Karl Koehler, chief executive officer of Tata Steel's European operations, said in the statement.
European mills are battling a flood of cheap exports from China, producer of about half the world's steel, as Chinese producers respond to weakening local demand by selling cheaply overseas. U.K. operators say they face an extra obstacle in high energy costs
"We need the European Commission to accelerate its response to unfairly traded imports and increase the robustness of its actions," Koehler said. "Not doing so threatens the future of the entire European steel industry."
ArcelorMittal, the biggest steelmaker, has closed plants in Belgium and France in recent years, cut output from Germany to Spain and said it may shutter sites in eastern Europe. Steel employment in Europe is down 20 percent since the global financial crisis around 2007-08. Demand for steel in the region is still about a quarter below pre-crisis levels.
Before it's here, it's on the Bloomberg Terminal.
LEARN MORE