Swiss Watchmaker Greubel Forsey Cuts Entry-Level Price by Half
by
Cheapest watch sells for 150,000 francs, from 298,000 francs

Swiss watch exports face first annual drop since 2009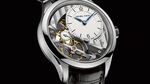 Greubel Forsey, the Swiss watchmaker that produces about 100 timepieces a year, reduced its entry-level price by half in an attempt to attract more customers as the industry faces the first annual exports decline since 2009.
The new starting price is 150,000 Swiss francs ($149,283), down from last year's 298,000 francs, according to Chief Operations Officer David Bernard. Greubel Forsey watches cost about 480,000 francs on average and can reach as much as 1.5 million francs.
The price cut illustrates the challenges facing the Swiss watch industry, which is preparing for a fourth straight year of little-to-no growth amid weak demand in Asia.
"It was a good idea also that we could decrease the price for being attentive to some clients who can't afford a watch of 300,000 francs," Bernard said in an interview at the Geneva watch salon. "Many can't even afford a 100,000-franc watch. They look at Greubel Forsey and say, 'No way, I can't afford it'."
The company's 170,000-franc Signature 1 timepiece is available in rose gold, white gold and platinum. It has been produced without using new technology, and doesn't have the complicated watch mechanisms known as tourbillons, Bernard said.
The Signature 1 line also comes in steel for 150,000 francs, though on demand only.
Before it's here, it's on the Bloomberg Terminal.
LEARN MORE