Suncor Wins Over Canadian Oil Sands Holdouts With `Small Bump'
by and
Gains support of Canadian Oil Sands' board, some shareholders

Requires 51% of shares to be tendered, less than earlier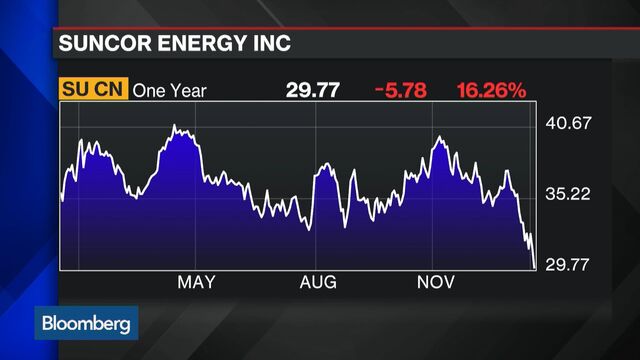 The icy war of words between Suncor Energy Ltd. and Canadian Oil Sands Ltd. began to thaw last Wednesday after Suncor realized it would have to sweeten its takeover offer for the rival to win over holdouts.
Suncor had spent the early part of last week meeting with Canadian Oil Sands shareholders, including resource investor Seymour Schulich, to determine just what would be needed to get them to tender their shares, according to people familiar with the negotiations, who asked not to be identified because the talks were private. Canadian Oil Sands' board had an idea of its own that Suncor would have to raise its bid to roughly 0.3 Suncor share for each of the target's, up from 0.25, said the people. 
The parties began hammering out a deal last week without Suncor's chief executive officer, Steve Williams, who was said to be entrenched in his position of not raising the bid especially under the backdrop of falling oil prices, the people said. Suncor's chief financial officer, Alister Cowan, was brought in to lead the discussions, they said.
Suncor had determined that only a small increase would be needed to get the holdouts to tender, including Schulich. Somewhere between 40 percent to 50 percent of Canadian Oil Sands' shareholders opted to accept the hostile takeover before it was extended on Jan. 8, said the people.
'Small Bump'
"In talking to COS shareholders who failed to tender to the .25 offer, including Mr. Schulich, we became convinced that a small bump would be sufficient to make the offer successful," Sneh Seetal, a Suncor spokeswoman, said in an e-mail, confirming the negotiations. "We approached the COS Board and they agreed. We were able to get to an agreement in a matter of a few days and we're encouraging shareholders to tender their shares to the offer."
To help increase the chances of the new deal getting shareholder approval, Suncor also dropped the threshold for how many shares would need to be tendered by the Feb. 5 deadline to 51 percent from two-thirds, according to a statement on Monday. The parties believe they have that level of support from Canadian Oil Sands' shareholders, said the people.
The two companies eventually settled on a deal after Suncor agreed to raise its all-stock offer by 12 percent to C$4.2 billion ($2.9 billion), or 0.28 of its shares for each of the target. Canadian Oil Sands surged as much as 16 percent Monday in Toronto. The offer is worth about C$8.74 a share, a 17 percent premium to Canadian Oil Sands' closing share price on Friday.
CEO Battle
Suncor's attempt to take over its Syncrude partner turned hostile in October after Willams approached Canadian Oil Sands' CEO Ryan Kubik earlier in 2015 with two different offers. A war of words followed, with Kubik arguing that his company was better off independent, while Williams countered that his forecast for the price of oil staying "lower for longer" meant shareholders would be better served owning Suncor shares.
Oil's crash has weighed on shareholders since the hostile bid was first announced on Oct. 5 and West Texas Intermediate was trading around $45 a barrel. The U.S. benchmark has since tumbled more than 35 percent and sank below $30 for the first time in 12 years on Jan. 12.
"I will be tendering my shares, and consistent with the Canadian Oil Sands board's recommendation, I encourage my fellow shareholders to tender their shares" Schulich, who had previously spoken out against the earlier offer, said in the statement. He said earlier this month he held about 5 percent of the shares.
Before it's here, it's on the Bloomberg Terminal.
LEARN MORE