business
Poland's Flirtation With `Dark Side' Aired in EU-Warsaw Clash
By and
Polish president goes on defense with Polish-born EU leader

Concerns over Poland's democracy trigger cut in credit rating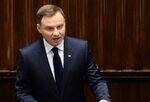 Poland's president and the European Union's Polish-born leader clashed over whether the country is returning to the "dark side" a quarter-century after emerging from communism.
President Andrzej Duda said Poland remains on the "good side" despite EU concerns that the new government is trampling on democracy which led to the first-ever cut of its credit rating.
EU President Donald Tusk, a former Polish prime minister whose party lost to Duda's Law & Justice party in elections last year, said the country's image has been "shaken slightly" as the European Commission investigates if new policies on the constitutional court and media give the ruling party too much power and impede on the "rule of law."
"We have managed to move from the dark side of Polish political life to the bright side," Tusk said on Monday at a joint press conference in Brussels. Poland's credibility hinges on "what is going on in Warsaw, not what is going on in Brussels," he said.
'Hysterical Comments'
The duet reflected the rivalry between Polish political forces as well as the tensions over refugees, terrorism, border protection and European identity that tug at the 28-nation EU.
Elected with an unprecedented parliamentary majority in October, Law & Justice has drawn fire for remaking Poland's institutions. It limited opposition oversight over the secret services and increased its influence over the constitutional court and the public broadcaster.
Reactions quickly became overheated. European Parliament President Martin Schulz, a German, likened the party's ruling style to Russian President Vladimir Putin's, while Law & Justice leader Jaroslaw Kaczynski responded to German criticisms with Nazi-era references.
Tusk, the highest-ranking eastern European in EU history, used his status as the bloc's consensus builder to urge politicians in Poland and the west back away from "hysterical comments."
Rating Downgrade
Tusk questioned the EU commission's intervention and said he has no intention of putting Poland in the dock by forcing the new government to defend itself at a summit of EU leaders. The EU Parliament, which has little power to discipline national governments, will debate the Polish question on Tuesday in Strasbourg, France.
Tusk called a downgrade of Poland's credit rating by Standard & Poor's to the third-lowest investment grade "exaggerated and unfair." He also suggested the new ruling party and president were to blame for saying the economy was left in ruins by the previous government, which was run by Tusk's political allies.
"Such a narrative that Poland's economic situation is catastrophic, such propaganda may have led someone to believe it," Tusk said.
Faced with street protests against the new government's moves, Duda said "animated and sharp political discussion" in Poland is a proof that democracy is thriving there.
"The change in government always has consequences and not everyone agrees with them," Duda said. "I know it's tough, but there's nothing extraordinary about the change of government in a democratic country."
In a later appearance at the North Atlantic Treaty Organization, Duda called for a "permanent" allied troop presence in eastern Europe to counter Russia's military buildup. Secretary General Jens Stoltenberg said NATO already has a "persistent" presence and will be even more visible after an alliance summit in Warsaw in July.
(
Updates with Martin Schulz's reaction in the seventh pararaph.
)
Before it's here, it's on the Bloomberg Terminal.
LEARN MORE