Offshore Yuan Gains as China Steps Up Defense of Its Currency
Bloomberg News
Reserve requirements to include overseas banks' yuan deposits

Interbank borrowing costs for the currency climb in Hong Kong
The offshore yuan strengthened, building on its biggest weekly gain since October, and the cost of borrowing the currency climbed in Hong Kong after China stepped up efforts to curb bearish bets on the exchange rate.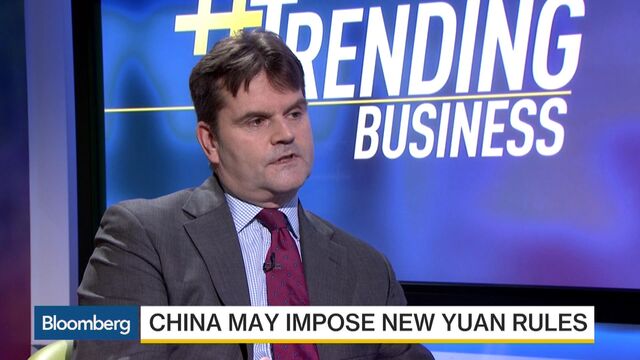 The central bank said it will impose reserve-requirement ratios on yuan deposited onshore by overseas financial institutions from Jan. 25, without saying what level would be used. The ratios will be the same as are applied to mainland banks, currently 17.5 percent for major lenders, according to people familiar with the matter. The move will lock up at least 220 billion yuan ($33.4 billion) of funds, according to estimates from Guotai Junan Securities Co. and Haitong Securities Co.
"What we're seeing is China trying to cut liquidity in the offshore market by making it more expensive for offshore banks to channel their yuan there," said Irene Cheung, a currency strategist at Australia & New Zealand Banking Group Ltd. in Singapore. "Basically it's a continuation of keeping liquidity in the offshore market tight, which will lead to higher funding costs and prevent speculators from shorting the yuan."
The yuan traded in Hong Kong rose 0.38 percent to 6.5888 a dollar as of 6:59 p.m. local time, after gaining 1.05 percent last week, according to data compiled by Bloomberg. It strengthened 0.08 percent to 6.5790 in onshore trading in Shanghai as the People's Bank of China raised it daily reference rate by 0.07 percent, the most in four weeks. The one-week Hong Kong interbank offered rate for loans climbed 370 basis points to 11.9 percent on Monday.
Li's Pledge
Premier Li Keqiang on Friday pledged a "stable" exchange rate and said the nation has no intention of stimulating exports through competitive currency devaluation. The decision to tighten yuan supplies in the offshore market through regulatory changes comes at a time when intervention is taking an increasingly large toll on the nation's foreign-exchange reserves, which fell by a record $108 billion in December alone. Speculation the currency will weaken is mounting as slowing economic growth, a stocks rout and prospects for higher U.S. interest rates spur capital outflows.
The PBOC repeatedly bought the currency in Hong Kong last week, sending interbank borrowing costs to all-time highs, in an effort to squeeze out speculators and reduce the gap between exchange rates at home and abroad. The nation's foreign-exchange regulator was also said to have verbally instructed some domestic banks to stop yuan leaving the mainland and the onshore-offshore spread between yuan valuations was about 0.1 percent on Monday, down from a record 2.9 percent on Jan. 7.
Funds Lock-Up
The expansion of reserve requirements will affect about 1.3 trillion yuan deposited by foreign banks in China and a 17 percent ratio would remove some 220 billion yuan from the offshore market, Haitong Securities analysts led by Jiang Chao wrote in a note on Monday. Xu Hanfei, a Beijing-based bond analyst at Guotai Junan Securities, estimated 280 billion yuan will be locked up.
"Through the reserve-requirement ratios, they can reduce liquidity by not intervening and spending their own reserves," ANZ's Cheung said. "They're trying to achieve the same result as last week but in a cheaper way."
The new curbs will not affect yuan held by overseas central banks, sovereign wealth funds and international lending agencies, the PBOC said.
One-week yuan Hibor surged to a record 33.79 percent last week as central bank intervention to support the yuan in offshore trading tightened the supply of the currency. The one-month rate rose 251 basis points on Monday to 11.84 percent, having climbed to an all-time high of 15.74 percent on Jan. 12, Treasury Markets Association fixings show.
Market Confusion
The PBOC didn't spell out exactly how reserve-requirement ratios will be applied to overseas banks' yuan deposits and this has led to some confusion. While strategists from HSBC Holdings Plc and Morgan Stanley Asia Ltd. said the move will drain funds from the offshore market, Societe Generale SA predicts it will increase liquidity as overseas banks pull funds from the mainland.
"The market is confused, and it's difficult to make any interpretations now without more details from the PBOC," said Kenix Lai, a foreign-exchange analyst at Bank of East Asia Ltd. in Hong Kong. "If the PBOC doesn't require offshore banks to deposit their yuan onshore, the lenders will probably keep the money in Hong Kong, which adds liquidity and weakens the offshore yuan. But this is counter-intuitive and doesn't go with the PBOC's recent intervention and curbs. If the central bank specifically says offshore lenders have to deposit some of their yuan holdings onshore, that will tighten liquidity overseas."
Yuan Internationalization
Chinese authorities' recent measures to halt the cycle of capital outflows and yuan depreciation represent a step backwards in their push for the currency to play a greater role in global trade and finance, according to Royal Bank of Canada and Rabobank Group. The government will tighten capital controls in the short term as it seeks to prevent significant fund outflows, Guotai Junan's Xu wrote.
A total of $508 billion of capital left China in the August-November period, according to a Bloomberg estimate that takes into account funds held in dollars by exporters and direct investment recipients.
The PBOC's expansion of reserve requirements is a signal that "under capital outflow and exchange-rate pressure, China will take a lot of measures in order to slow down capital outflows and depreciation even at the cost of temporarily slowing down the yuan internationalization," said Ding Shuang, chief China economist at Standard Chartered Plc in Hong Kong.
— With assistance by Tian Chen, and Saijel Kishan
Before it's here, it's on the Bloomberg Terminal.
LEARN MORE