No Calm in Sight as Volatility Surges From Stocks to Bonds
by
Bank of America's Market Risk index jumping this year

Traders grappling with Fed worries on top of growth concerns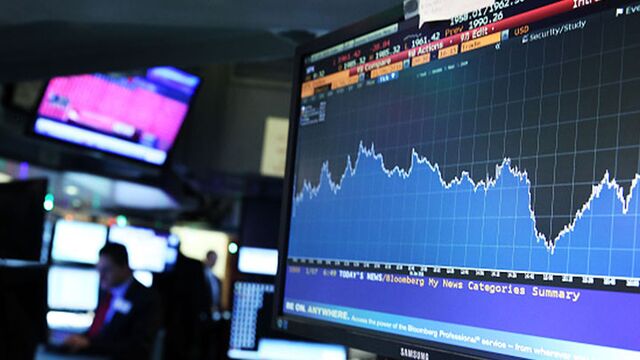 The rout that swept through asset classes, taking oil below $30 a barrel and European and Asian stocks into bear markets, is pushing up gauges of investor stress around the world.
Bank of America Merrill Lynch Market Risk index, a gauge tracking volatility expectations for equities, bonds, currencies and commodities, has jumped to its highest level since October. Global stocks have already lost more than $15.6 trillion since June -- about half the gains from a four-year rally -- and the yield on 10-year Treasuries fell below 2 percent. The Bloomberg Dollar Spot Index reached a record high, while the Bloomberg Commodity Index hit its lowest ever.
"It's a global growth-type theme -- the volatility in Chinese stocks and oil prices is pushing everything else," said Jasper Lawler, a London-based market analyst at CMC Markets Plc. "People are protecting against another leg lower. Part of the reason for the downturn in the market is the worry the Fed got it wrong."

Concern that China's slowdown will hurt the global recovery has taken over at a time when the Federal Reserve is tightening its monetary policy, removing the support that traders had grown used to. U.S. economic data are also falling short of projections, stoking worries that the Fed's December rate increase, the first in almost a decade, may have come too soon.
The Chicago Board Options Exchange Volatility Index for U.S. equities, also known as the VIX, closed at its highest level since September, while Europe's VStoxx Index reached its highest level since August in intraday trading on Monday. The JPMorgan Volatility index for Group-7 currencies has jumped 8.5 percent this year, and the Merrill Lynch MOVE index of implied volatility in Treasuries has rallied 15 percent.
Bank of America's Market Risk index ended last week at minus 0.04 from minus 0.39 at the start of the year. In 2015, it reached 0.17, its highest level since January 2012, when Europe was struggling with its debt crisis.
The MSCI All-Country World Index fell 0.5 percent at 5:20 p.m. in London, extending its lowest level since 2013. Crude oil traded near a 12-year low and the Bloomberg Dollar Spot Index edged higher. U.S. markets were closed for a holiday on Monday.
Before it's here, it's on the Bloomberg Terminal.
LEARN MORE