Kerviel Lawyer Says Recording Raises Questions About SocGen
by and
Senior prosecutor said SocGen knew about trades, lawyer says

Kerviel seeking additional review of conviction in Paris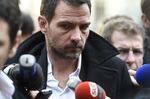 Jerome Kerviel's lawyer says he has obtained evidence that raises fresh questions about whether Societe Generale SA knew of activities by the former employee that led to a 4.9 billion-euro ($5.3 billion) trading loss eight years ago.
David Koubbi says a covert recording of a senior prosecutor casts doubt on a number of issues regarding SocGen and the handling of the investigation by French authorities. The tape was made last June by Nathalie Le Roy, the police officer who led Kerviel probes in 2008 and 2012, and last year told a French judge about her own misgivings about the case.
"Societe Generale knew, they knew," Chantal de Leiris, a former vice-prosecutor on the case, told Le Roy, according to a transcript of the June 17 conversation read by Koubbi to Bloomberg News. "That's obvious, obvious."
Koubbi says the revelation may feed into the 39-year-old Kerviel's latest bid to overturn verdicts that have found him exclusively responsible for the record trading loss. The lawyer asked France's court of review and reassessment to order a new trial at a closed-door hearing Monday in Paris, although the recording hasn't been submitted as evidence.
No New Elements
Societe Generale said the allegations didn't change any facts of the case, which has already been subject to multiple judicial reviews. There have been "no new elements" that could clear Kerviel, the company said.
Agnes Thibault-Lecuivre, spokeswoman for the Paris prosecutor's office declined to comment on the content of the recording. Thibault-Lecuivre said de Leiris, who no longer works in the office full time, wasn't made available to comment.
Prosecutors and the bank have long argued that Kerviel acted alone when exceeding his trading limits and that his supervisors were in the dark about his actions.
Private Coffee
Le Roy, who made the tape while the two women had a private talk over coffee in June 2015, declined to comment. French news outlets Mediapart and 20 Minutes reported on the recording Sunday.
Following the court hearing, Kerviel said the recording backed up his long-held claims about the bank.
"My position has never changed. Societe Generale knew," Kerviel said.
France's highest appeals court in 2014 upheld a verdict that found Kerviel guilty of abusing the bank's trust, faking documents and entering false data into computers that resulted in the massive loss. The court did, however, accept Kerviel's appeal contesting the bank's charge that he was responsible for any losses that resulted from unwinding his trading positions. The Versailles appeals court is set to examine that issue between Jan. 20 and 22.
41-Minutes
According to the transcript, de Leiris expressed concerns about Societe Generale's interference in police and prosecutors investigations during what Koubbi described as a 41-minute recording, saying that Le Roy was "manipulated" by the French bank. Prosecutors in charge of the investigation "were completely under Societe Generale's thumb," de Leiris said.
Following the court hearing today, Koubbi said the recording would be admissible, but he hasn't yet submitted it to judges.
If "we could get a fair trial" in the eight-year-old case, Koubbi said outside the court,  "that would be good."
Thierry Marembert, a lawyer at Kiejman & Marembert in Paris, said while the newly discovered material is fair game, it will likely have little impact on judges.
Not Material
"This is fundamentally opinions and not material elements," said Marembert, who isn't involved in the case. "I am not convinced that, taken alone, the thinking of a magistrate or a police officer is sufficient to justify a revision of the verdict."
One month before Le Roy allegedly made the recording, news website Mediapart reported that the former police officer had shared her misgivings with Paris investigative judge Roger Le Loire in early April. But Le Roy's doubts were rejected in a memo from the Paris fraud squad, L'Obs website reported in October.
De Leiris also questions the amount of the loss underlining that there was "not one single expertise" on the prosecutors' side, according to the transcript. Kerviel has argued at every trial that Societe Generale combined the sale of unprofitable subprime mortgage investments into his positions, exaggerating the losses.
Before it's here, it's on the Bloomberg Terminal.
LEARN MORE