business
Iran Gives Order to Boost Crude Oil Output Amid Global Glut
By and
U.A.E. says added barrels won't help oversupplied oil market

`Quick boom' in Iran exports from storage not sustainable: JBC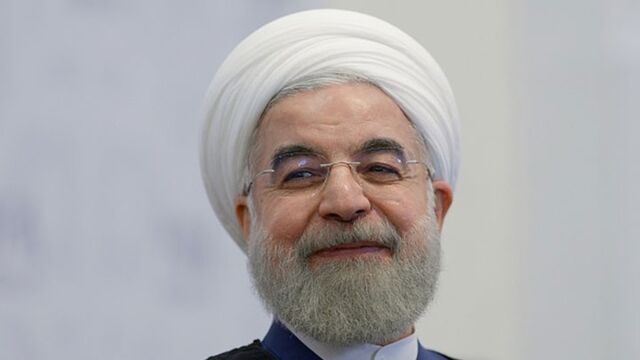 Iran's oil ministry issued an order to increase production by 500,000 barrels a day as the country moved ahead with plans to add supply to a glutted market even at the risk of contributing to a price collapse.
The increase is possible now that Iran is unfettered by sanctions on its crude exports, the ministry's news agency Shana reported Monday, citing comments by Roknoddin Javadi, managing director of state-run National Iranian Oil Co. If Iran doesn't boost production, neighboring countries will pump more oil within six to 12 months and take away its market share, Javadi said.
"Does Iran have the right to do so? Yes, of course," United Arab Emirates Energy Minister Suhail Al Mazrouei said Monday in Abu Dhabi. "Is this going to help the situation? No."
Buyers of Iranian crude are free to import as much of its oil as they want after the International Atomic Energy Agency determined that the country had curbed its ability to develop a nuclear weapon. As holder of the world's fourth-largest reserves of crude and biggest deposits of natural gas, Iran gains immediate access to about $50 billion in frozen accounts overseas, funds the government says it will use to rebuild industries. The end of sanctions also opens the door to foreign investors such as Total SA and Eni SpA.
Significant Increase
The Persian Gulf country is targeting an immediate increase in shipments of 500,000 barrels a day, Amir Hossein Zamaninia, deputy oil minister for commerce and international affairs, said Sunday in an interview in Tehran. Iran plans to add another half million barrels within months.
"Anyone who is introducing more supply into the market in the current situation is going to make it worse," the U.A.E.'s Al Mazrouei told reporters. "Any significant production increase will increase the glut and delay the market balancing."
Iran may offer deeper discounts in coming months to regain lost sales in Europe, which it sees as a priority market, BMI Research said in an e-mailed note. The nation faces challenges in setting up new sales contracts for oil because most transactions in U.S. dollars remain sanctioned, while caution among European banks will limit speed at which it can export large volumes, BMI said.
Unanimous Decision
Iran may hold back on an output boost if other producing countries do the same, in proportion to their production, Shana reported, citing Javadi. Oil-producing countries will need to take a unanimous decision to shore up prices by year-end, he said.
Benchmark Brent crude has dropped 22 percent this year and was trading 60 cents higher on Tuesday at $29.15 a barrel at 6:44 a.m. in London, amid oversupply and the looming surge in Iranian output.
Iran's expected output in the first quarter is already priced into the market, Goldman Sachs analyst Damien Courvalin said in an e-mailed report on Tuesday. Goldman sees production rising by 285,000 barrels a day this year compared with 2015, according to the report. The bank remains cautious on a strong increase in Iranian output due to low crude prices, declining production rates and competition from Saudi Arabia and Iraq, it said.
'Knee-Jerk' Reaction
Prices will recover to more than $30 a barrel later in the week after falling Monday in a "knee-jerk" reaction, Eugen Weinberg, Commerzbank AG's head of commodities research in Frankfurt, said by phone. "There is a real oversupply in the market, but I think that's already reflected correctly in the price."
Once the second-biggest producer in the Organization of Petroleum Exporting Countries, Iran is now fifth-largest in the 13-member group. It produced 2.7 million barrels a day in December, data compiled by Bloomberg show. Oil exports fell to an average of 1.4 million barrels a day in 2014 from 2.6 million barrels daily in 2011, the year before the U.S. and European Union intensified sanctions, the U.S. Energy Information Administration said in June.
Morgan Stanley sees production increasing by 600,000 barrels a day in the first half of the year, though the longer-term outlook is less clear due to Iran's uncertain investment environment, the bank said in an e-mailed report. JBC Energy GmbH expects Iran to boost output more slowly, by 255,000 barrels a day in 2016, it said in an e-mailed note.
Iran will probably start increasing exports by selling barrels it stockpiled on tankers in the Persian Gulf in anticipation of the deal. About 18 Iranian tankers are holding 12 million barrels of crude and 24 million barrels of condensates, according to the International Energy Agency.
"We do expect to see a substantial increase in exports over the coming weeks as Iran ships out the crude it had held in floating storage," JBC Energy said. "However, this quick boom is not expected to be sustainable, and we see exports increasing by an average of 450,000 barrels a day over the year."
(
Updates with BMI comment in seventh paragraph, Goldman in 10th.
)
Before it's here, it's on the Bloomberg Terminal.
LEARN MORE