Indonesia to Strengthen Anti-Terror Law Following Jakarta Attack
by and
Security minister says police to get greater powers of arrest

Police and spy agency have both called for stronger laws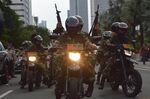 Indonesia plans to strengthen its anti-terror law this year to give police greater powers of arrest, following last week's attack by Islamic State in the capital.
The changes to the law will include allowing authorities to arrest anyone they have a "strong indication" might be planning an act of terrorism, Luhut Panjaitan, the coordinating minister for security and legal affairs, told reporters on Monday after meeting President Joko Widodo. The changes will have to be approved by parliament.
The police and intelligence chiefs both called for extra powers in response to the attack on Thursday, which saw militants linked to the Islamic State kill four people in a gun-and-bomb assault in central Jakarta. Unlike some countries facing threats from Islamic State, authorities in Indonesia lack laws to arrest returnees from Syria and Iraq.
"It's true that there are some people who feel this won't be a solution to the problem, but at the very least it will make it easier to get intelligence data and make it harder for terrorists to get space to operate," said Panjaitan.
Even before last week's attacks, officials had been discussing the need to amend the anti-terror law to enable authorities to deal with the emergence of the Islamic State, which has attracted about 200 Indonesians to its ranks in Syria and Iraq.
QuickTake Fighting Islamic State
There are currently no laws to arrest Indonesians returning from fighting with Islamic State. Panjaitan didn't mention whether that threat would be specifically addressed in the planned revisions.

Repression Tool?
Giving security authorities more powers of arrest is sensitive in Indonesia, which under the Suharto dictatorship repressed left-wing, democracy and Islamist activists. Muslim parties in the parliament, and human rights activists, might object to any changes in the law.
"The law is currently very weak and in my opinion it needs to be revised," said Solahudin, author of the 'Roots of Terrorism in Indonesia'. "The worry among some is that the law will be used as a tool of repression."
The original law was rushed before parliament in the aftermath of the 2002 Bali nightclub bombings, which killed 202 people and was the first major attack against a Western target in the world's most populous Muslim nation.
Before it's here, it's on the Bloomberg Terminal.
LEARN MORE