Hang Lung's Chan Says Hong Kong Property Market Healthy
by
Housing price declines of 10% to 20% is 'no big deal'

Chan says China's retail market facing `triple whammy'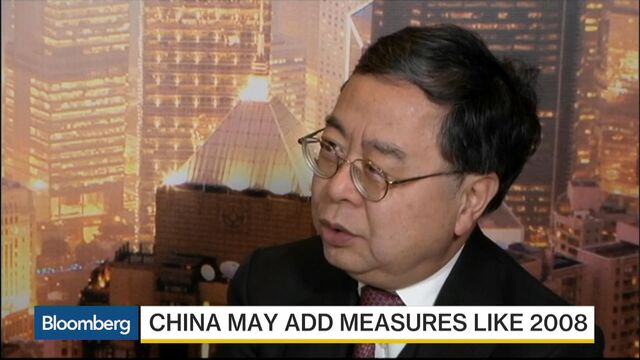 Hang Lung Group Ltd.'s Chairman Ronnie Chan said Hong Kong's property market, which began a correction last quarter, is the "healthiest" he's seen in 25 years.
Speaking in an interview Monday with Bloomberg Television, Chan said a price decline of 10 percent to 20 percent in Hong Kong's housing market is "no big deal." Chan also said the residential property market in mainland China is getting "healthier and healthier," after data showed that home-price gains are spreading to more Chinese cities, especially smaller ones.
Chan's optimism on the Hong Kong market comes against a backdrop of slumping prices in the city. Secondary residential prices in Hong Kong dropped 6.9 percent in the fourth quarter of 2015, the biggest quarterly slump in seven years, according to data from Centaline Property Agency Ltd. Home sales in December fell 32 percent to HK$29.8 billion ($3.8 billion) from a year earlier, the Hong Kong Land Registry said Jan. 5.
Hang Lung, which is listed on the Hong Kong Stock Exchange, invests in property in Hong Kong and mainland China through its subsidiary.
Chan's outlook for the China retail market was less bullish. He said a combination of falling rents, a weakening domestic economy and the slowdown in retail sales, especially for high-end luxury, created a "triple whammy" for Hang Lung's shopping malls in the mainland.
He said that retail outlets in Shanghai and Beijing will weather the storm better than in second and third-tier cities, which "are being hit pretty hard." One of those cities is Dalian, where Hang Lung just opened a new 2.4 million square foot shopping center.
Still, Chan said the longer-term prospects for China retail are good.
"If anything in the economic world is sure, it's going to be consumerism in China," he said. "In the long run we are okay, it's just in the short run it is very very difficult."
Before it's here, it's on the Bloomberg Terminal.
LEARN MORE