Al-Qaeda Raid Leads to Overnight Shift in W. Africa Security
by and
Ghana, Senegal send armed police to luxury hotels in capitals

Sites are popular with flight crews, foreign workers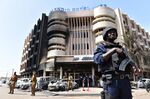 Al-Qaeda's weekend attack in Burkina Faso that killed at least 29 people has prompted the largest hotels in West Africa's capitals to boost security, joining cities such as Abuja, Nigeria, where similar measures have been in place since at least 2011.
A police officer armed with an assault rifle and wearing a bullet-proof vest and helmet oversaw security guards search vehicles at the Movenpick Ambassador Hotel in Accra, Ghana's capital, on Monday. In Abidjan, the commercial hub of Ivory Coast, police officers stood at the entrance while guards manned a barrier with a trained dog at the Pullman Hotel.
"This situation where we are searched before entering hotels is new to me and Ghanaians," Dotse Mortoo, a 38-year-old construction engineer, said at the Kempinski Hotel in Accra where rooms go for almost $500 per night. "We could be more at risk than we think with what we are seeing in countries nearby."
Al-Qaeda in the Islamic Maghreb previously limited its attacks to targeting French soldiers and United Nations peacekeepers in the semi-arid areas of northern Mali. Since November, the group has killed more than 50 people at luxury hotels in two West African capitals and signaled they will continue to target the citizens of France, which has deployed 3,000 soldiers across the region to fight them.
The hotels tend to have restaurants, shops and offices that are popular with foreigners and serve as an overnight stop for flight crews from Lufthansa AG, Air France and British Airways. Companies including Standard Chartered Plc and officials from the U.S., Europe and the UN also routinely use these hotels when visiting.
Missed Signs
Following a car-bomb explosion claimed by the Islamist group Boko Haram at the UN office in Abuja in 2011, in which more than 20 people were killed, major hotels such as the Sheraton and Hilton increased security measures including banning marked taxis from entering their parking lots.

Governments in the region should have woken up to the growing threat earlier when Boko Haram expanded from Nigeria into neighboring countries, including Chad, Niger and Cameroon, and different militant groups used a weak government in Mali to set up bases in northern Mali, Manji Cheto, a London-based vice president at Teneo Intelligence, said in an e-mail on Monday.
"The latest attack in Ouagadougou is likely to be a game-changer in terms of the way West African governments think about the growing risk of militant Islamism in the region," Cheto said. "This realization may be coming a little late especially when the underlying security trend in the region had already been pointing to this risk growing."
In Abidjan, Sarah Sagan, an American worker based in Dakar, Senegal, was preparing for meetings at the Novotel hotel. Prior to the November attack in Bamako she never heard warnings from her family and friends about staying at these luxury hotels in West Africa.
"You have friends and family who say 'Don't go to the lobby,"' she said. "I would be lying if I say there wasn't a part of you that's still a bit more hesitant."
Before it's here, it's on the Bloomberg Terminal.
LEARN MORE