Photographer: Ulet Ifansasti/Getty Images
Taiwan's Tsai Vows Economic Fix While Keeping Peace With China
by , , and
First female president ousts China-friendly KMT in landslide

Beijing warns of 'grave challenges' to ties with old rival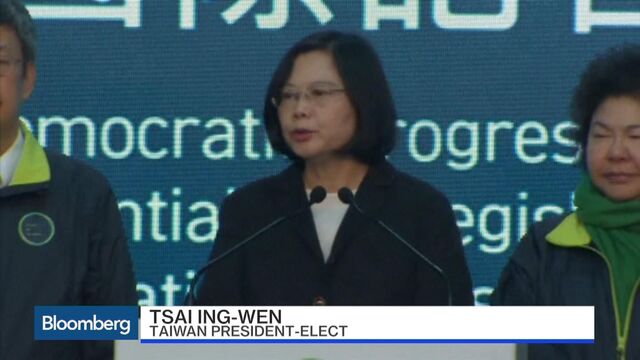 President-elect Tsai Ing-wen pledged to overhaul Taiwan's flagging economy and maintain peace with mainland China, even as she called on Communist Party leaders in Beijing to respect the island's democracy and place in world affairs.
Tsai, 59, rode on a wave of discontent with the ruling Kuomintang to become Taiwan's first female president on Saturday, a resounding victory just four years after failing to unseat President Ma Ying-jeou. The former law professor and trade negotiator demonstrated the same cautious approach that fueled her comeback and helped her Democratic Progressive Party capture its first legislative majority, saying in a victory speech that, "the energy of reforms will be maximized, while the volatility of reforms will be minimalized."
The result sends shockwaves across the 180 kilometer (110 miles) Taiwan Strait, where Chinese President Xi Jinping watched Ma's Kuomintang, a reliable advocate of stronger ties, replaced by a party that officially supports independence. While Tsai promised she won't "provoke" Taiwan's former civil war foes, she didn't endorse the so-called 1992 consensus that has underpinned KMT talks with the Communist Party. Under it, both sides agree they belong to the same country, even if they disagree on what that means.

"This is really bad news for China," Shelley Rigger, a politics professor at Davidson College in North Carolina, said in Taipei. "This kind of massive landslide was not on anyone's radar. It's a new outcome for them to get their minds around. It's going to be be a big shock."
Tsai won 56 percent of the vote compared with 31 percent for the KMT's Eric Chu, the biggest margin of victory since Taiwan's first democratic presidential election two decades ago. The DPP won 68 seats in the 113-seat Legislative Yuan, leaving the KMT with 35 seats and locked out of power for the first time since since Chiang Kai-shek fled with his government across the strait during the civil war in 1949.
Meanwhile, the emergent New Power Party, which aims to normalize Taiwan's status as a country and improve income equality, won five seats. Even with support from such upstarts, the DPP would be well shy of the 85 votes necessary to call referendums on any constitutional changes that might assert the island's independence.
'Grave Challenges'
"The people want to see a government willing to listen to the people, a government that's more transparent and more accountable, and a government that's more capable of solving problems and taking care of the weak," Tsai told a news conference Saturday. "They tell me the people expect a government that can lead this country into the next generation and a government that is steadfast in protecting the country's sovereignty."
China's official Xinhua News Agency said in a commentary Sunday that the result posed "grave challenges to cross-strait relations" and urged the DPP to clarify its position on the 1992 consensus. "If someone obstinately sticks to the secessionist stance or acts as a troublemaker for regional stability, Taiwan's stability and development would be sheer empty talk and disappointed Taiwan voters would throw out such a scourge during the next election," the commentary said.
Any strains could quickly complicate China's relationship with the U.S., which is obligated under a 1979 law to defend Taiwan from attack. State Department spokesman John Kirby said the U.S. congratulated Tsai and Taiwan for "demonstrating the strength of their robust democratic system." The U.S. and Taiwan shared an interest in maintaining peace and stability with China, he said.
'One Option'
Tsai, who holds a Ph.D from the London School of Economics, has a long history of sparring with Beijing. As a member of the KMT administration of former President Lee Teng-hui, she helped draft a policy redefining their dealings as a "special state-to-state" relationship. She later oversaw mainland affairs for ex-President Chen Shui-bian, of the DPP. During her campaign four years ago, she spoke of the need for "Taiwan consensus" as a basis for talks between the two sides.
This time, she focused on keeping ties intact, a position government opinion surveys shows is shared by the majority of Taiwan voters. Still, she has resisted endorsing the 1992 consensus, describing it as only "one option" for dealing with Beijing.
Tsai must also contend with local concerns including an economy expected to have grown last year at its slowest pace since at least 2009. Unease over stagnant wages and rising home prices was a major reason why voters shunned Ma's party in favor of Tsai, whose role in negotiating Taiwan's entrance into the World Trade Organization helped burnish her reputation as a shrewd policy wonk.
Domestic Issues
"President Tsai will probably focus on domestic issues in the first one and two years of her presidency, while cross-strait relations will just be stable with no progress," Peter Tzeng, a senior vice president for IBTS Investment Consulting Co., said Sunday.
While Tzeng said bio-technology stocks may outperform on Monday as a result of Tsai's campaign promise to support the industry, he expected money to keep flowing from Taiwan as the Chinese economy slows and Federal Reserve interest-rates increase spur more U.S. investors to withdraw from emerging markets.

Investors must also contend with a lameduck period of more than four months before Tsai takes office on May 20. Taiwanese Premier Mao Chi-kuo resigned after the election results Saturday, saying the majority party should form the cabinet. KMT cabinet ministers would all step down before the new legislative session starts Feb. 1.
On Saturday night, Tsai's supporters were content to reflect on her historic win. Tens of thousands gathered outside DPP headquarters in Taipei, some with tears in their eyes as they waved Taiwan flags and cheered "Hello, President!"
"I'm so proud that we elected the first female president," said businesswoman Christina Wang, 50. "DPP morale was sluggish in 2008 after losing its power, Tsai came to rescue with her fortitude and determination. With the world, including China, facing economic challenges, Taiwan's new forces come to rescue now."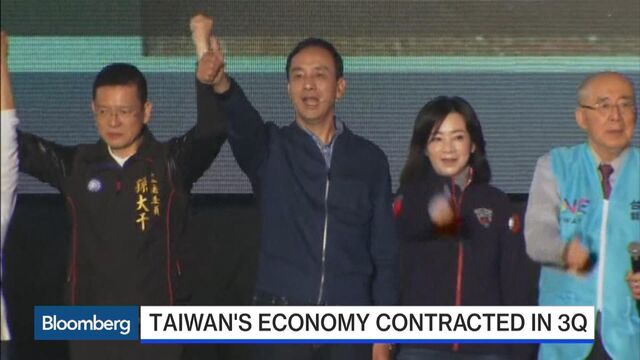 Before it's here, it's on the Bloomberg Terminal.
LEARN MORE