Schaeuble Aide Says Cameron Has 'Some Right Questions' on EU
by , , and
U.K., Germany reject welfare migration, deputy minister says

Germany's Spahn cites European unity risk in interview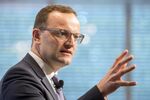 U.K. Prime Minister David Cameron is raising "some right questions" in seeking to limit welfare-state benefits for immigrants from other European Union countries, though Germany can only go so far to accommodate British demands, Deputy Finance Minister Jens Spahn said in an interview.
As EU leaders look to a summit in Brussels in February for a deal on EU changes that Cameron can put to a referendum, the U.K. and German governments agree that "social-welfare migration" in the EU needs to be restricted, said Spahn, a member of Chancellor Angela Merkel's Christian Democratic Union.
"We want the U.K to stay in the European Union and we want to support the United Kingdom wherever we can to make it possible," Spahn told Bloomberg Television on the sidelines of a conference in Munich. "And I think Mr. Cameron raises some right questions and makes some right proposals especially when it comes to immigration into the social welfare systems."
Cameron met Merkel this month and voiced confidence afterward that he'll forge an EU reform plan to put to U.K. voters in a referendum he wants to hold by the end of 2017. Chancellor of the Exchequer George Osborne said he was "pretty optimistic" the U.K. will secure concessions that will keep Europe's second-biggest economy in the 28-nation bloc.
While the U.K.'s proposal on restricting benefits "doesn't work from our perspective," Spahn said he sees readiness to "find a common solution on this because we don't want social welfare migration within the European Union -- that's a common point."
On Europe's refugee crisis, Spahn said Germany is committed to finding an international solution that includes preserving the EU's passport-free travel zone known as the Schengen area.
"We want Plan A to work," he said. "We want a European solution, we need a European solution to keep Europe together because Schengen, the freedom of movement, is one of the core principles of the European Union."
German Finance Minister Wolfgang Schaeuble warned in Brussels on Friday that the Schengen area is on the verge of collapse and urged EU members to raise funding for measures to better protect the EU's external border.
Before it's here, it's on the Bloomberg Terminal.
LEARN MORE