Russia's Two Oil Giants Diverge in Bond Market Amid Sub-$30 Oil
by and
Lukoil is favorite of Barclays' analysts wary of Rosneft risk

Widest gap in three months as price drop spotlights leverage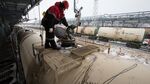 They're both Russian, they're both oil giants and they're both grappling with the lowest crude prices in more than a decade. Yet for some investors, the similarities between Rosneft OJSC and Lukoil PJSC end there.
While state-controlled Rosneft is being punished on concern it will struggle to repay bondholders $22 billion amid tumbling energy prices, privately held Lukoil's bonds are proving more resilient. The premium investors demand to hold Rosneft's six-year securities instead of similar-maturity notes from Lukoil jumped to a three-month high of 65 basis points as of Friday. It was 20 basis points as recently as last month.

As the price of a barrel of crude trades below $30 for the first time in 12 years, the sustainability of Russia's biggest corporate debt burden at Rosneft is coming under more scrutiny. Oil futures were $28.77 at 3:51 p.m. in New York, down 0.6 percent, after earlier dropping as much as 4.4 percent in London to the lowest since November 2003. Sanctions over Moscow's support of separatists in Ukraine complicate Rosneft's ability to repay debt it took to buy BP Plc's local joint venture in 2013.
"Naturally those under sanctions suffer more," said Dmitry Dudkin, the head of research at Uralsib Capital in Moscow. "Lukoil is simply in better shape financially. It's much less levered. Rosneft is loaded with debt."
Rosneft's debt is 1.5 debt times its cash flow while Lukoil's ratio is 0.71, according to data compiled by Bloomberg. While Moody's Investors Service gives both energy companies a speculative-grade rating of Ba1, Standard & Poor's puts Lukoil in the investment-grade zone with a rating of BBB- versus BB+ for Rosneft. The spread between the two companies' bonds was 61 basis points Monday.
'Debt Quantum'
"The differential makes sense," said John Bates, a senior vice president at PineBridge Investments in London, which has about $80 billion in assets under management, including bonds of Russian energy companies. "It largely reflects the debt quantum."
On Rosneft's side is a $15 billion advance payment for oil supplies it received at the end of last year from a source it didn't identify in quarterly reports published Nov. 13.
A press officer at Rosneft said cash and short-term financial holdings of $23 billion built up in the first nine months of 2015 creates an ample cushion to meet $13.7 billion of debt repayment in 2016.
Even so, Barclays Plc analysts led by Stella Cridge are wary. They advised an underweight exposure to Rosneft bonds and overweight for those of Lukoil in a Jan. 15 note to clients.
"Lukoil retains the most resilient credit profile and our top pick," Cridge and colleagues wrote. "We keep Rosneft underweight. The recent liquidity boost is priced in."
Before it's here, it's on the Bloomberg Terminal.
LEARN MORE