New Sanctions Imposed by U.S. Over Aid to Iran on Missiles
by
Treasury sanctions 11 companies, individuals after tests

Restrictions announced a day after nuclear sanctions lifted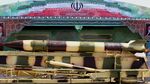 The U.S. Treasury Department on Sunday announced sanctions against 11 companies and individuals for their ties to Iran's ballistic missile program, one day after sanctions tied to Iran's nuclear program were lifted.
The list included Mabrooka Trading Co. LLC, based in the United Arab Emirates, and its networks in both the U.A.E. and China, according to a statement released in Washington from the Treasury's Office of Foreign Assets Control. Five Iranian individuals were also on the list.
"This action is consistent with the U.S. government's commitment to continue targeting those who assist in Iran's efforts to procure items for its ballistic missile program," the Treasury said in its statement.
The announcement serves to back up the Obama administration's recent claim that it won't soften enforcement of sanctions aimed at stopping Iran's development of ballistic missiles, even after the landmark deal over that country's nuclear program. The administration has come under pressure from Republicans and Democrats alike to punish Iran for recent ballistic missile tests.
In 2010, the United Nations Security Council passed Resolution 1929, which banned Iran from "any activity related to ballistic missiles capable of delivering nuclear weapons, including launches."
A U.S. official said Iran launched a rocket test in December near its warships and commercial traffic passing through the Strait of Hormuz, the Associated Press reported. Iranian officials have denied the claim.
Additionally, a top adviser to Iran's Supreme Leader Ali Khamenei, Ali Akbar Velayati, said in December that proposed sanctions over the alleged missile test "contravene the spirit" of the July nuclear accord and that "obviously such measures will not be left unanswered," Iran's Fars news agency reported.
Under terms of the nuclear agreement, Iran will scale back its nuclear facilities and export almost all of its low-enriched uranium in exchange for the lifting of financial and economic sanctions.
Sunday's announcement hits Mabrooka and its owner, Hossein Pournaghshband, for efforts "to procure materials and other equipment" since at least 2015 on behalf of another company, Navid Composite Material Company, which was designated for sanctions by the Treasury in 2013.
"This network obfuscated the end user of sensitive goods for missile proliferation, by using front companies in third countries to deceive foreign suppliers," the Treasury said.
Also named in the statement were Hong Kong-based Anhui Land Group Co. and Candid General Trading. Other individuals named were Anhui's Chen Mingfu, Candid's Rahim Reza Farghadani, Sayyed Javad Musavi, Seyed Mirahmad Nooshin, Sayyed Medhi Farahi, Seyed Mohammed Hashem and Mehrdada Akhlaghi Ketabachi.
Before it's here, it's on the Bloomberg Terminal.
LEARN MORE