Merkel's Refugee Showdown Nears Amid Party Revolt Over Borders
by and
Lawmakers draft protest demanding end to open-door policy

Merkel ally pleads for patience with EU free travel at stake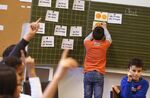 Faced with the biggest challenge of her decade in power, Angela Merkel is poised for a week that may determine the outcome of her quest to keep Germany open to refugees.
The chancellor ran straight into the gathering storm over her policy on Monday, chairing a meeting in Berlin of her Christian Democratic Union's national executive amid open revolt within the party ranks. Party leaders backed changing German asylum rules to make it easier to expel citizens of Algeria, Morocco and Tunisia.
Merkel then heads to the Alps for mid-week talks with her rebellious Bavarian allies and ends the week by hosting a summit with Turkish government leaders, in whose hands she has placed much of the responsibility for stemming the influx of migrants to Europe.
"We want Plan A to work," German Deputy Finance Minister Jens Spahn said in a Bloomberg Television interview. "We need a European solution to keep Europe together."
Merkel's week of refugee politicking shows heightened urgency after mass sexual assaults on New Year's Eve increased pressure on her to impose border restrictions, a demand championed by lawmakers in her party bloc who plan to hand her a letter of protest on Tuesday. Merkel, backed by Finance Minister Wolfgang Schaeuble and other senior leaders, is seeking a deal within the European Union to resettle asylum seekers and avoid a breakdown of free commerce and travel in the EU while helping Turkey care for its more than 2 million Syrian refugees.
"A little patience is needed," Volker Kauder, the leader of Merkel's parliamentary group, said in an interview on ZDF television on Monday. "We have to give the chancellor some time and support her."
'More Emotions'
As Merkel's popularity fell to its lowest point since October 2011 in a ZDF poll last week and the organized protest by back-benchers took shape, Schaeuble, a key ally in the CDU and Germany's longest-serving lawmaker, rose to her defense.
"I support what the chancellor says with total conviction," Schaeuble, Germany's most popular politician, told Sueddeutsche Zeitung in an interview published Friday. Merkel is working "to the point of exhaustion" to solve the refugee crisis and "things are moving too slowly in Europe," he told the newspaper.
About 50 of the 311 members of Merkel's parliamentary group back the letter urging her to bar refugees arriving from other EU countries, which was delayed by a day in a bid to round up more supporters, said a lawmaker involved in the drafting who asked not to identified because the letter isn't public yet. The letter warns Merkel against overburdening Germany with refugees, according to the lawmaker.
Spahn, who's also a lawmaker, disagreed with the form of protest.
"People are discussing what to do, what is the situation after Cologne, with even more emotions, and we have the same discussion within the party," he said Sunday. "We don't need a letter to say what we think."
Merkel plans to travel to Bavaria on Wednesday for the second time in two weeks for talks with the state's ruling Christian Social Union, her CDU's sister party, which opposes her refugee stance and is threatening to file a constitutional complaint against it. The southern state is the main entry point for asylum seekers arriving in Germany.
Merkel's Job
Criticism is also growing in the Social Democratic Party, Merkel's junior coalition partner, as polls suggest Germans increasingly fear that refugees are overwhelming Europe's biggest economy and back tougher measures against asylum seekers who commit crimes. Of 32 suspects identified in the Cologne assaults, 22 are asylum seekers, according to the German Interior Ministry.
"It's clear that we haven't made enough headway," SPD head Sigmar Gabriel said in a ZDF interview. "We can handle the 1 million who came in 2015, but we won't be able to handle it if another million come in 2016."
Steffen Seibert, Merkel's chief spokesman, was asked at a government news briefing in Berlin on Monday whether the chancellor is concerned she could lose her job. "The answer is no," he said.
As refugees keep arriving, Germany is pressing partners such as Greece to do more to secure the bloc's outer border and to fulfill an EU pledge of 3 billion euros ($3.3 billion) in aid to Turkey, or risk seeing passport-free travel in Europe, known as the Schengen area, fall apart.
Merkel is "trying to save the Europe that Germany needs in the long term," Bild, Germany's most-read newspaper, said in an editorial Monday.
"It's a risky course -- for her and for our country," according to Bild. "But not to try would be even more risky."
Before it's here, it's on the Bloomberg Terminal.
LEARN MORE