Hong Kong Bookseller Who Vanished in Thailand Held in China
Bloomberg News
Gui Minhai confesses in video broadcast on state television

Lee Bo sends letter to his wife, distances himself from Gui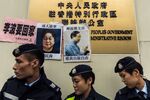 Gui Minhai, one of the five missing men linked to a Hong Kong store that sells books critical of China's Communist Party elite, is in custody on the mainland after surrendering to police over a fatal traffic accident that occurred more than a decade ago, the official Xinhua News Agency reported.
Gui was wanted in China after being convicted of killing a college student in a drunk driving accident in 2004 and he turned himself into the police in October, Xinhua reported. He was convicted for his role in the accident and initially given a two-year suspended sentence, but the suspension was revoked in 2006, Xinhua said. Gui made a confession broadcast on state-controlled television network CCTV.
The disappearance of Gui came under greater scrutiny in December after his colleague, Lee Bo, vanished from a Hong Kong warehouse, fanning suspicion he had been sequestered by mainland authorities. Thousands of people demonstrated outside China's liaison office on Jan. 10, demanding information about Lee. The three other men linked to Lee's bookshop, Causeway Bay Books, vanished while on a visit to the mainland.
Crackdown on Dissent

Concerns about China's encroachment on Hong Kong's autonomy, enshrined in the "one country, two systems" principle, sparked the student-led democracy protests that paralyzed parts of the city for months in 2014. Since coming to power, President Xi Jinping has embarked on a campaign on the mainland to tighten the party's grip on power that has included secret detentions and convictions for spreading information deemed dangerous.
Within days of his disappearance, Lee communicated with his wife in Hong Kong and told her that he was in China assisting with an investigation. He didn't explain how he entered China without his travel permit, which he left in his apartment. Chinese authorities have not responded to Hong Kong's request for information about Lee's whereabouts and the city will continue to press China about Lee's fate, Chief Executive Leung Chun-ying told journalists on Monday.
Salacious Books
Gui was a prolific author of the often salacious books about Chinese leaders that are sold at Hong Kong's so-called upstairs bookshops like Causeway Bay Books. The stores cater to the millions of mainland tourists that flood Hong Kong each year. Gui is also a Swedish national, and Swedish authorities have been pressing China for information about his whereabouts since he disappeared from an apartment in Pattaya, Thailand in October.
"It is reasonable to believe that Beijing has put out this so-called reason for handling the Gui case as a reply to increasingly serious pressure put to bear on the Chinese government, not only by citizens of Hong Kong, but by the international community, including Sweden," said Willy Lam, an adjunct professor at the Chinese University of Hong Kong,. in an interview on RTHK radio.
In his confession, Gui asked Swedish authorities to respect his decision to turn himself in.
Lee Bo, in a Jan. 17 letter to his wife obtained by Sing Tao newspaper, blamed Gui for getting him into trouble. He alleged that Gui may have been involved in criminal activities and said that he had no idea Gui's background was so complicated. The letter said Hong Kong people had been hyping up the case and using it to attack "one country, two systems," the concept that guarantees Hong Kong's autonomy, according to a copy of the letter reproduced in the newspaper.
— With assistance by Keith Zhai
Before it's here, it's on the Bloomberg Terminal.
LEARN MORE