EU's Vestager Vows to Press Forward With Corporate Tax Probes
by , , and
Vestager also says she's ready to probe companies' data use

EU still sifting data on Google shopping search investigation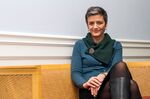 The European Union's top antitrust official vowed to push ahead with tax probes involving some of the world's biggest companies, saying businesses that are "organized to pay very little taxes" are a competition concern.
Margrethe Vestager, who is investigating tax deals Apple Inc. and Amazon.com Inc., struck in Ireland and Luxembourg respectively, said her investigations should send "a signal that you should invest in Europe for the right reasons" such as access to the EU's market of more than 500 million consumers or its research environment.
"Very few businesses actually need" special tax treatment, she said Sunday in an interview on Bloomberg Television in Munich, Germany. Most "can compete on the merits with the business next door" which pays its fair share of tax.
Belgium's tax arrangements with some 35 companies, including Anheuser-Busch InBev SA, were ruled illegal by the EU last week, forcing the country to recoup about 700 million euros ($764 million). The EU must still rule on its probes into tax arrangements for Apple and Amazon after it struck down deals involving Starbucks Corp. and Fiat SpA last year.
Aside from taxes, Vestager has started more traditional antitrust probes in a variety of industries, including technology.
Vestager said it's unclear when she'll complete her high-profile probe into how Google Inc. shows shopping search results. Regulators are digging deeply into "huge amounts of data that we took on board in order to analyze them," she said. Information from other companies can take "us to go one layer deeper" which makes it hard to say when the EU might move to a final decision that could involve fines.
Regulators are still probing other complaints into Google's behavior, she said.
Earlier Sunday, she said in a speech that she's planning to set out possible problems with so-called geo-blocking, or companies' limits on where content is used. The EU is investigating Hollywood studios' contracts that restrict where movies are shown and similar restrictions for video games.
Vestager is also prepared to investigate companies' control of data, she said. People who trade personal data in return for free services are involved in business transactions, even it if isn't clear how much the data is worth, she said.
"If a company's use of data is so bad for competition that it outweighs the benefits, we may have to step in to restore a level playing field," Vestager said in the speech.
Authorities need to ensure that startups still have access to the data they need to grow, said Oliver Samwer, chief executive officer of Rocket Internet SE, Europe's biggest startup factory.
"If Google and Facebook have 80 percent of data that startups need to succeed, that's not good," Samwer said. "But it comes down to the private sector to make the difference."
Before it's here, it's on the Bloomberg Terminal.
LEARN MORE