El-Erian Says U.S. Economy Weak Though Not Headed for Recession
by
Still creates jobs: Allianz chief economic adviser on Fox News

Investors need to get used to slower-growth environment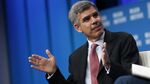 The U.S. economy is weaker than expected though not likely headed for recession in 2016, Mohamed A. El-Erian said on Fox News's "Sunday Morning Futures" with Maria Bartiromo.
"We are experiencing a lot of volatility. Growth and wages are lower than where we could've been, but let's not forget it's an economy that creates a lot of jobs," the Allianz SE's chief economic adviser said.
Markets have been experiencing turmoil since the start of 2016. The U.S. stock markets headed down with the Dow Jones Industrial Average sinking 8.3 percent in the first two weeks, reaching its lowest since September. For the first time in 12 years, oil is below $30 a barrel. In addition, China is struggling to boost a slowing economy, calm a volatile stock market and get a handle on its currency.

Central banks are no longer working together to suppress volatility to boost the asset values, he said. "Investors that are used to have favorable fiscal policies will have to get used to" a slower-growth environment, said El-Erian, who is also a Bloomberg View columnist.
Rates, China
El-Erian said he thinks the Federal Reserve is likely to raise the interest rates twice more -- though very gradually -- this year. "It's a shallow hiking cycle. It will end much lower" than previous cycles, he said.
Meanwhile, global investors are expecting 2015 growth estimates from China on Tuesday. The level of concern U.S. investors have put on China "is an over-reaction, but it's an understandable one," El-Erian said. The Chinese government "can't make up their mind. They lost control of the currency markets, which is very unusual."
"As I said a few months ago that investors needed to have a cash cushion, should get ready to put money in good companies that trade at cheap prices, we started to see that happen," said El-Erian. "You don't want to be fully invested. When a market has a downside bias, we are gonna hit a few air pockets."
Before it's here, it's on the Bloomberg Terminal.
LEARN MORE