Stock Slump Extended in Europe, Asia as Iran Stokes Oil Decline
by and
Banks lead European shares lower amid jump in volatility

Stronger yuan fixing bolsters currency; Shanghai stocks rise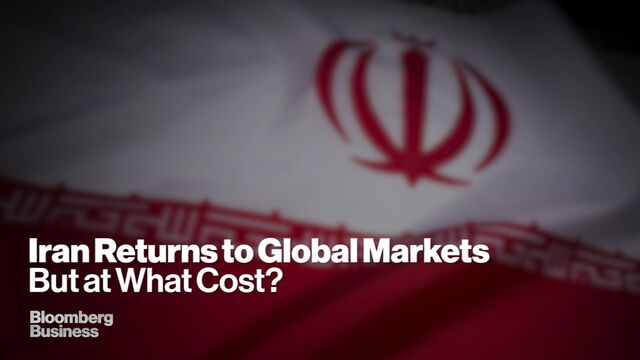 Stocks in Europe and Asia extended the global rout Monday, as crude oil hemorrhaged at a 12-year low on the prospect of a bump in exports from Iran.
The MSCI All-Country World Index slipped to its lowest point since July 2013, as banks drove the Stoxx Europe 600 Index to a 13-month low and Japanese and Hong Kong shares led losses in Asia. U.S. index futures dropped, with regular markets closed for a holiday Monday, after equities tumbled at the end of last week. Brent oil dipped below $28 a barrel and traded around its weakest level since the end of 2003 after the lifting of sanctions on Iran paved the way for an increase in oil output amid a global glut in the commodity. Polish bonds fell after the country received its first-ever sovereign credit downgrade. 

Oil's selloff and slowing growth in China have ignited a wave of volatility through global financial markets in 2016, pushing indexes from China and Japan to Europe toward bear markets. Iran said it is aiming to raise shipments by 500,000 barrels of oil a day following the removal of the sanctions, a move that would likely exacerbate the global oversupply issues that have dragged crude prices down more than 20 percent this year. Figures Monday indicated improvement in China's property sector, ahead of data Tuesday that will include an update on gross domestic product in Asia's largest economy.
 
"Volatility indexes are on levels which are far away from calm waters," said Guillermo Hernandez Sampere, head of trading at MPPM EK in Eppstein, Germany. "We are still in risk-off mode, so don't expect a 'V-shaped' correction to the upside. As a value investor, we see this as a buying opportunity for the mid or long term."
Equities
MSCI's All-Country gauge was down 0.5 percent in a second day of losses as of 4:05 p.m. in New York. The index has slumped more than 9 percent in 2016, as U.S. stocks extend their worst start to a year on record and gyrations in Chinese equities fuel risk aversion among investors.
The Stoxx 600 fell 0.4 percent on Monday as an index of banking stocks dropped 1.9 percent, leading 11 of the gauge's 19 industry groups fell.
Oil and gas companies rose 0.1 percent, while makers of household goods rose 0.7 percent. Total SA gained 1.1 percent and BP Plc added 0.7 percent. Banca Monte dei Paschi di Siena SpA tumbled 15 percent, a drop its chief executive said was unjustified. UniCredit SpA lost 5.4 percent. Ericsson AB led technology shares higher, adding 2.9 percent after Nordea Bank AB raised its recommendation to buy from hold.
In the Americas region, Canada's S&P/TSX Composite Index fell 1.1 percent to the lowest level since 2013, while Brazil's Ibovespa slipped 1.6 percent. E-mini futures on the Standard & Poor's 500 Index were down 0.1 percent, as those on the Nasdaq 100 Index declined 0.2 percent.
Japan's Topix index fell 1 percent amid losses of more than 1.2 percent in Hong Kong's Hang Seng and Hang Seng China Enterprises gauges. The MSCI Asia Pacific Index dropped 1.1 percent, sliding to its lowest close since September 2012.
The Bloomberg GCC 200 Index climbed 0.3 percent despite the decline in oil prices.
Commodities
Brent crude futures declined 1.3 percent at $28.55 a barrel, after earlier falling as much as 4.4 percent to $27.67.
Prices pared losses after the Organization of Petroleum Exporting Countries, which supplies about 40 percent of the world's oil, predicted production outside its members would drop this year by 660,000 barrels a day. That deepened the decline from its previous estimate by 270,000 barrels a day.
Nickel led base metals higher in London on optimism that China will see an increase in demand and its economy will avoid a hard landing. The metal used to produce stainless steel rose as much as 3 percent to $8,650 a metric ton.
Emerging Markets
The MSCI Emerging Markets Index fell for a third day, slipping 0.8 percent as stock gauges from Hungary to Argentina declined by more than 2 percent.
The Shanghai Composite Index rose 0.4 percent amid evidence of a recovery in Chinese house prices and as speculation grew equities had been oversold after the benchmark gauge capped a drop of more than 20 percent from its most recent high last week, the common definition of a bear market.
Poland's benchmark WIG20 index slumped 3.2 percent and the country's bonds fell, sending yields on 10-year zloty notes up 22 basis points, or 0.22 percentage point, to 3.21 percent. On Friday, Standard & Poor's cut Poland's credit rating to BBB+, the third-lowest investment-grade level, and reduced its outlook to negative from positive, warning policies of the new government were imperiling the nation's institutions.
Brazil's stocks fell to a six-year low as state-controlled oil producer Petroleo Brasileiro SA tracked the decline in crude, slumping to its lowest level in 13 years. The producer's losses offset a gain in raw-materials companies, including steelmaker Cia. Siderurgica Nacional SA, after China stepped up efforts to curb bearish bets on the exchange rate, easing concern that a devaluation of the currency would hurt commodity exporters.
Taiwan's biotechnology shares led the Taiex equity gauge up 0.6 percent on speculation president-elect Tsai Ing-wen will increase funding in the industry to bolster economic growth. 
Currencies
The yen retreated from close to a four-month high after China's central bank helped calm investors' nerves by strengthening the reference rate it uses to manage the yuan by the most in almost a month.
Some high-yielding currencies -- including the Brazilian real and Mexican peso -- rebounded, while the South African rand, New Zealand dollar and Norwegian krone weakened amid oil's slump.
"Markets have settled down a bit" following the stronger yuan fixing, said Sam Tuck, a senior currency strategist at ANZ Bank New Zealand Ltd. in Auckland. They "still feel quite nervous, but prepared to wait to see what tomorrow's data brings," he said, referring to the Chinese GDP report.
The yuan strengthened 0.4 percent in offshore trading, building on its biggest weekly gain since October. The cost of borrowing yuan on a weekly basis in Hong Kong rose, while overnight lending rates fell. The People's Bank of China said it will impose reserve-requirement ratios on yuan deposited onshore by overseas financial institutions from Jan. 25, without saying what level would be used. 
Bonds
U.K. government bonds declined for the first time in five days, with yields on 10-year gilts rising by three basis points to 1.69 percent, after falling 11 basis points last week.
Portuguese bonds extended declines on Monday, pushing 10-year yields to their highestlevel since Nov. 13 amid renewed turmoil in the nation's banking system. Portugal Prime Minister Antonio Costa said Friday he was concerned by the central bank's treatment of Novo Banco SA bondholders after some were forced to take losses on their investments. Portugal's PSI 20 Index dropped 3.4 percent.
The cost of insuring investment-grade corporate debt rose for a ninth day, the longest run of gains since May 2012. The Markit iTraxx Europe Index of credit-default swaps on highly rated companies climbed two basis points to 97 basis points. A gauge of default swaps on non-investment grade companies increased five basis point to 385 basis points, the highest since October 2014.
Before it's here, it's on the Bloomberg Terminal.
LEARN MORE