'Ride Along' Sequel Topples 'Star Wars' From Atop Box Office
Anousha Sakoui and Dan Murtaugh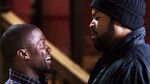 "Ride Along 2," the buddy-cop comedy starring Ice Cube and Kevin Hart, unseated the latest "Star Wars" movie from the top of the box office over the Martin Luther King Jr. holiday weekend, ending the franchise's four-week run as No. 1.
The sequel to the 2014 "Ride Along," from Comcast Corp.'s Universal Pictures, posted $34 million in weekend sales at U.S. and Canadian theaters, Rentrak Corp. said Sunday in a statement. "The Force Awakens" placed third with $25.1 million, while two other new releases, "13 Hours: The Secret Soldiers of Benghazi" and "Norm of the North," placed fourth and sixth.
With Walt Disney Co.'s "Star Wars" losing steam domestically, newer releases have a chance to garner the fan attention that the space classic has sopped up for weeks. Theaters also are still showing a few Oscar nominees, like "The Revenant" and "The Big Short."
"The crossover appeal of Kevin Hart and Ice Cube is undeniable," said Paul Dergarabedian, senior media analyst at Rentrak. "Now they can say they're the movie that knocked 'Star Wars' out of first place."
In "Ride Along 2," rapper-filmmaker-actor Ice Cube returns as James Payton and re-teams with comedian Hart playing his sidekick Ben Barber. In this installment, Barber is preparing to marry Payton's sister as they need to head to Miami to bring down a drug dealer.
Critics didn't like the movie, with only 15 percent giving positive notices, according to aggregator Rottentomatoes.com.
"'Ride Along 2' starts to look like nothing more than a blatant cash grab during the January dead zone," Stephanie Merry wrote in the Washington Post.
Sales Forecasts
The film's $34 million total reflects ticket sales Friday through Sunday. BoxOffice.com was predicting the film would produce $41 million in four-day sales over the extended MLK holiday weekend. It cost about $40 million to make, according to Box Office Mojo, another researcher.
"13 Hours: The Secret Soldiers of Benghazi" opened with weekend sales of $16 million for Viacom Inc.'s Paramount Pictures.
The picture is based on real events depicted in a book by Mitchell Zuckoff. The story centers on the security team struggling to defend U.S. personnel during the 2012 attack in Libya that claimed the life of an American ambassador Michael Bay directs, with John Krasinski in the lead role. The film garnered 59 percent positive notices at Rottentomatoes and cost $50 million to make, according to Box Office Mojo.
BoxOffice.com was forecasting $25 million in four-day weekend sales through Monday.
The other new release was Lions Gate Entertainment Corp.'s animated feature "Norm of the North."
Corporate Role
The movie, featuring the voices of Rob Schneider, Heather Graham and Bill Nighy, opened with three-day sales of $6.7 million. BoxOffice.com was predicting $10 million for the four days.
Norm, a polar bear played by Schneider, is displaced from his Arctic home with three lemming friends and ends up in New York City. He becomes a mascot for a corporation that he learns has a hand in the fate of his homeland.
Among returning films, "The Force Awakens" brought its domestic total to $851.1 million, according to Rentrak.
While the movie is the biggest ever in North America, it ranks third worldwide, according to Box Office Mojo, and looks unlikely to challenge the $2.79 billion global mark held by the 2009 release "Avatar."
"The Revenant," which leads Oscar nominations with 12, placed second with $29.5 million in its second weekend in wide release, Rentrak said. The frontier revenge tale was expected by analysts at Boxoffice.com to place third with $32 million in sales in the U.S. and North America over the four day weekend.
"There's no question 'The Revenant' is riding a strong wave of buzz, with Oscar nominations and Golden Globes wins," Dergarabedian said. "This movie is on the must-see list for everyone."
Weekend sales for the top 10 films fell 22 percent to $139.5 million from a year earlier, Rentrak said. Sales for the year to date are up 17 percent, Rentrak said.
The following table has U.S. box-office figures provided by studios to Rentrak. The amounts are based on actual ticket sales for Jan. 15 and Jan. 16, with estimates for Sunday.
                    Rev.    Pct.             Avg./  Total
 Movie             (mln)    Chg. Theaters  Theater  (mln)   Wks
================================================================
1 Ride Along 2      34.0     --    3,175   10,720     34.0    1
2 Revenant, The     29.5    -26    3,559    8,289     87.7    4
3 Star Wars         25.1    -41    3,822    6,572    851.1    5
4 13 Hours          16.0     --    2,389    6,697     16.0    1
5 Daddy's Home       9.3    -38    3,322    2,800    129.3    4
6 Norm Of The North  6.7     --    2,411    2,769      6.7    1
7 Forest, The        5.8    -55    2,509    2,308     21.1    2
8 Big Short, The     5.2    -16    1,765    2,946     50.5    6
9 Sisters            4.4    -39    2,313    1,910     80.9    5
10 Hateful Eight     3.4    -46    2,385    1,445     47.6    4



Top 10 Films Grosses



   This Week     Year Ago      Pct.
     (mln)         (mln)       Chg.
===================================
    $139.5        $179.0     -22.1



Year-to-date Revenue



     2016          2015
      YTD           YTD        Pct.
     (mln)         (mln)       Chg.
===================================
      $663          $566      17.1

Source: Rentrak Corp.
Before it's here, it's on the Bloomberg Terminal.
LEARN MORE