Tsai Wins Taiwan's Presidency, Captures Legislature in Landslide
by , , and
Opposition chief elected as island's first female leader

China policy, stagnant economy sapped support for KMT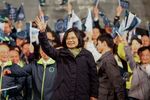 Taiwan opposition leader Tsai Ing-wen rode a tide of discontent over everything from China ties to economic growth to become the island's first female president and secure a historic legislative majority for her Democratic Progressive Party.
Tsai, 59, a former law professor, won 56 percent of the vote to 31 percent for the ruling Kuomintang's Eric Chu. Her victory margin was the biggest since Taiwan's first democratic presidential election two decades ago. The DPP won 68 seats in the 113-seat legislature, gaining its first ever majority and locking the KMT out of power for the first time since since Chiang Kai-shek fled with his government across the Taiwan Strait in 1949.
The landslide was propelled by anxiety over stagnant wages, high home price and dissatisfaction with President Ma Ying-jeou's polices of rapprochement with Taiwan's one-time civil war foes on mainland China. The result poses new challenges to Communist Party leaders in Beijing, who enjoyed warm ties under Ma even after his cross-strait trade policy sparked a student-led protest movement. 
While Tsai has pledged to maintain ties with Beijing, the DPP's charter supports independence. She told reporters that both sides had a responsibility to maintain peace and that any suppression would damage relations.
"The results today tell me the people want to see a government willing to listen to the people, a government that's more transparent and more accountable, and a government that's more capable of solving problems and taking care of the weak," Tsai told a news conference. "They tell me the people expect a government that can lead this country into the next generation and a government that is steadfast in protecting the country's sovereignty."

After the briefing, she greeted tens of thousands of supporters outside party headquarters, some with tears in their eyes as they waved Taiwan flags and cheered "Hello President!"
China's Taiwan Affairs Office acknowledged the election results and said it continues to oppose any Taiwanese efforts to achieve independence, according to the official Xinhua News Agency. China is willing to boost ties with parties or groups that agree the two sides of the Taiwan Strait belong to the same country.
State Department spokesman John Kirby said the U.S. congratulated Tsai and Taiwan for "demonstrating the strength of their robust democratic system." The U.S. and Taiwan shared an interest in maintaining peace and stability with China, he said.

"This is a very, very big failure for the KMT," said Chao Yung-mau, a politics professor at National Taiwan University in Taipei. "The KMT has deep-rooted support from some local factions. But if the KMT doesn't try to attract the support of young voters and middle voters, it could become a minor party in Taiwan's political landscape."

Tsai will have to walk a tightrope between preserving the island's democracy and peace with China after taking office May 20. She'll also bear the task of resuscitating an economy expected to have grown last year at its slowest pace since at least 2009. Unease over stagnant wages and rising home prices are a major reason why voters have shunned Ma's party in favor of Tsai, whom he defeated four years ago.
"Why has public opinion changed so much? How did our party misread public opinion? Our policy ideas, the people in our camp, the way we communicate with society -- are there major problems there?" Chu told supporters, while conceding at Kuomintang headquarters. "Why did we fail to self-examine and lose power in the central government and lose our legislative majority? This is an unprecedented change for the KMT."
Taiwanese Premier Mao Chi-kuo resigned, saying the government should allow the party that holds a legislative majority to form the cabinet. The KMT cabinet ministers would resign before the new legislative session starts Feb. 1.
Erin Lin, who's in her early 30s, flew back from the U.S. to vote for the first time in eight years.
"Under KMT rule, the people who have grown their wealth are just a few families, and not most people," Lin said outside a polling station in Taipei's Xinyi district after voting for Tsai. "If Taiwan had developed its economy well, I wouldn't have gone to America."

Some smaller, emerging parties may also gain a foothold in the legislature, including the New Power Party, which aims to normalize Taiwan's status as a country and improve income equality. The party is led by a 39-year-old death metal singer Freddy Lim, who won his race, gaining just less than 50 percent of the vote, and defeating six other candidate. 
"I'm very proud that we will elect a female to be our president," Kevin Chang, 22, a senior at Taiwan's National Chi Nan University, who voted for Tsai Ing-wen. "This means we have looked beyond gender, and looked for leadership instead. This is very encouraging. Hopefully it will lead to more female participation in politics in the future."
The Chinese Communist Party's response will be closely watched. It passed a law allowing an attack to prevent secession in 2005, when the last DPP president, Chen Shui-bian, sought a referendum on statehood.
"Tsai won't provoke China for sure, but she won't satisfy its demands," said George Tsai, a politics professor at Chinese Cultural University in Taipei. "Beijing already has more leverage against Taiwan. It's in no hurry to rock the boat. But it will of course put pressure on her."
Before it's here, it's on the Bloomberg Terminal.
LEARN MORE