Photographer: Justin Chin/Bloomberg
China Stocks Watchdog Acknowledges Flaws in Equities Regulation
Bloomberg News
Participants immature, market system inadequate: CSRC's Xiao

Some institutions let illegal, irregular activities ride: Xiao
The Chinese equities watchdog has acknowledged loopholes and ineptitude within its regulatory system after a review of the turmoil that's shaken markets since last June.
An immature bourse and participants, incomplete trading rules, an inadequate market system and an inappropriate regulatory system were to blame and regulators will learn from their mistakes, Xiao Gang, chairman of China Securities Regulatory Commission, said in a transcript of an internal meeting of the regulator that was posted on the agency's website on Saturday.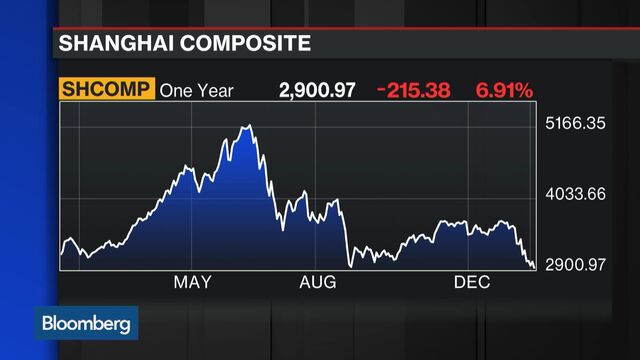 Chinese shares fell back into a bear market on Friday, wiping out gains from an unprecedented state rescue amid waning confidence in the government's ability to manage the country's financial markets. The initial collapse in June, which came after cheerleading by state media helped fuel an unprecedented boom in mainland equities, triggered stock purchases by the government, restrictions on trading and a temporary ban on initial public offerings. Xiao was criticized for helping to talk up the market as the bubble developed.
"The slumping stock market, fleeing liquidity, speedy deleveraging activities, augmented by self-defeating redemption at mutual funds and selloffs in futures, spiraled into a full-scale crisis like a domino effect," Xiao said in the transcript. "During the abnormal volatility in the stock market, some institutions let illegal and irregular activities ride instead of taking responsibility to stabilize the market."
Wild Ride
It's been a wild ride for Chinese stock investors. The Shanghai Composite Index more than doubled in the 12 months through May before losing 34 percent by the end of September as regulators failed to manage a surge in leveraged bets by individual investors. A state-sponsored market rescue campaign sparked a rally toward the end of the year but those gains have been wiped out this month.
"The stock market developed so fast that the regulations failed to catch up," said Ronald Wan, chief executive of Partners Capital International Ltd., an investment bank in Hong Kong. "Only when the laws and regulations improve, can the market develop in a healthy way. That cannot be done in one or two months."
Losses this year were fueled by a controversial circuit-breaker system, which authorities scrapped in the first week of January after finding that it spurred investors to rush for the exits on big down days. The turbulence in China has rippled through global markets this year, contributing to a 8.5 percent drop in the MSCI All-Country World Index.
The CSRC will try to learn from its overseas counterparts but will avoid wholesale adoption of another nation's regulatory system, said Xiao. IPO reforms will be gradual and the registration system for offerings won't be settled in one step, he said. China plans to shift to a registration-based system for IPOs, loosening the grip of the CSRC, which has controlled the timing and pricing of listings.
The Shanghai-Hong Kong stock link will be improved, a Shenzhen-Hong Kong connect will be started and a link between the Shanghai and London bourses will be considered, Xiao said. The watchdog will encourage mergers and acquisitions among listed companies, cap margin trading within a "reasonable overall size," strictly regulate program-trading and curb excessive speculation in futures, Xiao said. 
— With assistance by Xiaoqing Pi, Feiwen Rong, and Alfred Cang
Before it's here, it's on the Bloomberg Terminal.
LEARN MORE