Why SpaceX Needs to Land a Rocket on a Floating Drone
A safe landing on the ocean is key to Elon Musk's dream of sending spacecraft to Mars and back
by and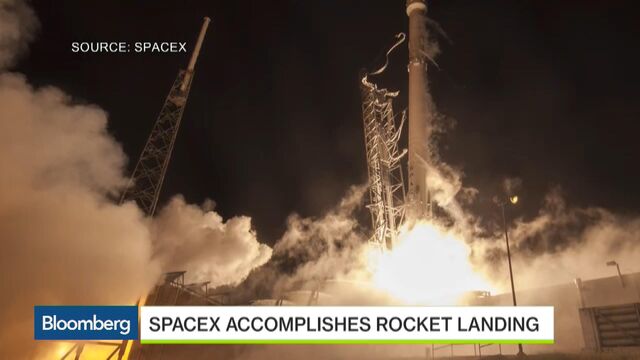 SpaceX made history last month by landing one of its Falcon 9 rocket stages on land. Elon Musk's company now wants to pull off that same feat on a drone ship in the Pacific Ocean, a maneuver that has been attempted without success twice before off the coast of Florida.
The sea-landing bid will come Sunday after the scheduled launch of the Jason-3 satellite from Vandenberg Air Force Base in California. SpaceX has ample reasons to keep trying to perfect this landing-at-sea technique, despite the immense technical difficulties of trying to slow a rocket traveling roughly 5,000 mph and land it on a bobbing platform. Foremost among them: Spacecraft returning from lunar orbit, Mars, and other deep reaches of the solar system fly at much higher speeds than those in low-earth orbit, such as NASA's space shuttle.
Landing on ship at sea offers a greater safety margin, especially as SpaceX ventures farther into space, said Scott Pace, director of the Space Policy Institute at George Washington University. "If you are coming back at higher speed, a small error can mean a large miss distance," he said. "For safety purposes, you have a wider area to work with with a drone ship."
A drone ship also offers SpaceX greater flexibility for landings, given the potential for land-based space ports to become crowded, he said. For Sunday's launch, there's another, even more practical consideration: SpaceX does not have a landing pad at Vandenberg. In the successful Dec. 21 rocket landing, SpaceX's Falcon 9 booster came to rest less than 10 minutes after launch at a location about six miles south of the Cape Canaveral launch pad.
Musk founded SpaceX in 2002 with the ultimate goal of going to Mars and making it possible for people to live on other planets. For SpaceX, reusable rockets that land themselves—unlike the traditional model in which the rocket is left to burn up upon reentry—are a critical aspect of reducing the cost to reach orbit. Musk has said that a fully and rapidly reusable rocket is the only way to enable humans to travel to and from the moon and Mars.
Musk has named the drone ship Just Read the Instructions, a literary nod to the late Scottish science-fiction author Iain M. Banks. It offers a landing zone of 150 feet by 250 feet.
The drone ship will be floating off the coast of southern California, although the landing will take place far enough out to sea that rocket fans gathered to watch the launch are unlikely to be able to see the conclusion. The first stage of the rocket separates at the edge of the earth's atmosphere, and the trajectory of the rocket's return places it hundreds of miles offshore.
SpaceX first tested the ability of the Falcon 9 to touch down its landing legs on a barge a year ago. In that attempt, the 14-story-tall rocket ran out of hydraulic fluid shortly before it hit the ship and broke into pieces. Another test scheduled for February 2015 was called off because of rough seas. A third attempt last April saw the rocket land too hard to survive the impact.
Air Force meteorologists on Thursday predicted "a 100 percent chance of favorable weather" Sunday morning for the launch. The Jason-3 satellite being carried into space—a project led by the National Oceanic and Atmospheric Administration, NASA, and two European partners—is designed to study the ocean surface for data on sea-level change and better hurricane forecasting.
On Thursday, meanwhile, SpaceX, Orbital ATK Inc., and Sierra Nevada Corp. won contracts to haul cargo to the International Space Station under a NASA initiative to privatize routine spaceflight. The first mission is set for 2019. 
Before it's here, it's on the Bloomberg Terminal.
LEARN MORE