U.S. Oil Drillers Park One Rig as Production Continues Climb
by
Rig activity declines expected to accelerate in coming weeks

As many as another 100 rigs are expected to lose work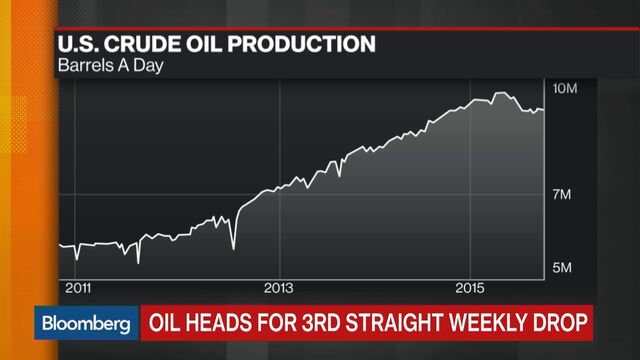 Explorers parked one more drilling rig in U.S. oilfields this week as producers strive to make good on a government forecast that daily production will fall by a million barrels in the next two years.
Rigs targeting oil in the U.S. fell by 1 to 515 after more than 150 were idled since August, Baker Hughes Inc. said on its website Friday. It was the eighth time in nine weeks that oil rigs declined. Natural gas rigs were down 13 to 135, trimming the total by 14 to 650. The slowdown among the big U.S. plays was led by the Niobrara in Colorado, where three rigs were let go, leaving 19 oil rigs to work there.
"You've got to see more rigs being laid down," Chase Mulvehill, an analyst at Suntrust Robinson Humphrey, said Friday in a phone interview. "You're probably going to see them accelerate as E&Ps reset their budgets."
Oil is trading below $30 a barrel for the first time in 12 years with no sign of the glut easing yet. U.S. supplies remain more than 120 million barrels above the five-year average as Iran prepares to restore exports as soon as sanctions are lifted -- as soon as next week. Analysts are eyeing $20 a barrel as a strong possibility, with appreciation of the U.S. dollar speeding the decline in the global benchmark Brent, according to Morgan Stanley.
$20 Bottom?
"The $20 number is something you have to talk about," Ed Morse, Citigroup managing director and global head of commodities research, said at conference in Calgary. "When you've seen a $10 price slide and WTI is trading just slightly above $30, the likelihood is fairly great."
America's oil drillers have idled more than half the country's rigs in the past year as the world's largest crude suppliers battle for market share. Despite the cutbacks, U.S. production has remained stubbornly high as new techniques that increase efficiency keep the oil flowing.
Another 100 rigs are expected to be dropped by the middle of this year, Mulvehill said.
U.S. production rose by 8,000 barrels last week to 9.23 million barrels a day, according to weekly Energy Information Administration data. It was the sixth time in seven weeks that U.S. output climbed.
For the year, output is forecast to average 8.73 million barrels a day, down 7.4 percent from 9.43 million in 2015, according to the Energy Information Administration. Output will probably further decline to 8.46 million in 2017, the EIA said.
West Texas Intermediate, the U.S. benchmark crude, fell 5.7 percent to $29.41 a barrel at 1:48 p.m. on the New York Mercantile Exchange.
Before it's here, it's on the Bloomberg Terminal.
LEARN MORE