Tokyo Olympic Stadium Architect Denies Plagiarizing Zaha Hadid
by
Hadid's design was dropped after cost estimates ballooned

Kuma is working with two firms who collaborated with Hadid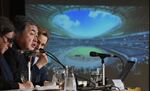 The architect of Tokyo's new stadium for the 2020 Olympics said his design had nothing in common with a previous plan drawn up by Pritzker-winner Zaha Hadid, denying her allegations that they had "remarkable similarities."
Kengo Kuma's design was chosen late last year in a hastily arranged second competition, after British-Iraqi architect Zaha Hadid's futuristic creation was abandoned in July as cost estimates ballooned. Hadid's office said in a statement on its website that engineering company Azusa Sekkei Co. and Taisei Construction Corp. had worked on both her winning bid and subsequently with Kuma, and therefore had access to detailed drawings and plans.
"Anyone who looks at Zaha's design and at mine will see that they are completely different," Kuma told reporters in Tokyo Friday, noting that his design is low and flat, compared with her saddle-shaped design elevated on two sides. "Any similarities in terms of the seating arrangements and the angles are a result of the conditions of the project."
Japanese Prime Minister Shinzo Abe's success in winning the hosting rights for the Games has been overshadowed by nagging disputes over the stadium, which is not expected to be ready for the 2019 Rugby World Cup as initially planned. A second scandal hit preparations for the Olympics last year, when its logo had to be scrapped after accusations of plagiarism.
Public anger over the initial stadium design's cost, which soared to 252 billion yen ($2.1 billion) from an initial estimate of 163 billion yen, prompted Abe to drop Hadid's plan last year. Olympics Minister Toshiaki Endo told parliament this month that he couldn't forecast how much the event would end up costing.
Green Design
Kuma, who is known for a love of traditional Japanese architecture, incorporated wooden elements, broad eaves and ample greenery in his design. At 49.2 meters, the new stadium will be about 20 meters lower than the scrapped design, which had been criticized as too large for the surrounding area. The new plan was compared to a hamburger on Japanese social media when it was revealed last month.
Cost was the most important factor in drawing up the new design, Kuma told reporters, saying he had been careful to make sure standard timber sizes and prefabricated elements could be used. His three-tiered stadium is estimated to cost 149 billion yen and to be completed by November 2019.
Yoshihide Suga, the government's top spokesman, told reporters last month that the new design meets requirements on cost and the construction time.
A shortlist of designs for the new Olympic emblem will be announced early this year, with a final decision in the spring.
Before it's here, it's on the Bloomberg Terminal.
LEARN MORE