The Zika Virus Is Coming to the U.S. Here's What You Need to Know
A once-rare virus that may cause birth defects is alarming health officials.
By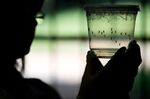 A once-rare mosquito-borne virus called Zika is spreading rapidly through the Americas since arriving in Brazil last May, with a case confirmed in Texas this week in a traveler returning from Latin America. Health officials are alarmed because of a possible link between the virus and a birth defect called microcephaly, which causes babies to be born with abnormally small heads and potential developmental problems.