RBS Chairman Says U.K. Investment Banks Must `Rethink' Services
by
Lenders must adapt to Bank of England firebreak rules

Says more work ahead to shrink RBS's investment bank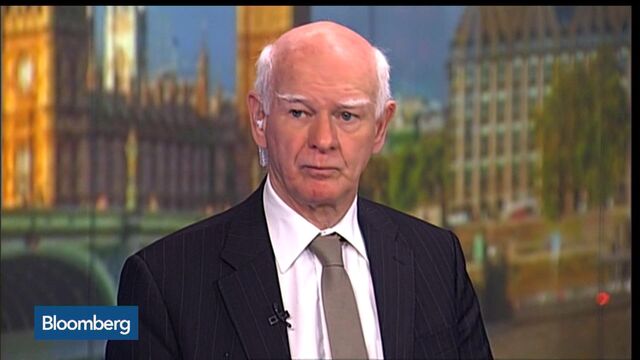 Royal Bank of Scotland Group Plc Chairman Howard Davies said U.K. investment banks must "rethink" their services as regulators force lenders to separate riskier operations from consumer-banking units.
"The future for European investment banking is not so great," Davies, 64, said in an interview with Bloomberg Television's Tom Keene and Francine Lacqua on Friday. "All of the U.K. banks, including RBS, have to rethink what kind of investment bank we can offer."

The chairman of Britain's largest taxpayer-owned lender, who replaced Philip Hampton in September, is tasked with helping complete one of the biggest turnarounds in global finance after RBS required a 45.5 billion-pound ($65 billion) bailout in the banking crisis. While the Treasury began recouping its investment in August to cut its stake in the lender to 73 percent, RBS still faces "immense" challenges on its road to recovery, according to Davies.

RBS is exiting commercial and investment banking operations in 25 countries around the world as it seeks to focus on consumer lending in the U.K. and Ireland. Chief Executive Officer Ross McEwan, 58, is eliminating thousands of jobs and seeking to cut risk-weighted assets at the unit to about 30 billion pounds by 2019 from 107 billion pounds in 2014.
'Easier Bit'
"We're downsizing the investment bank rapidly and that's going well, but it's still quite a lot to go," Davies said. "The early cost-cutting is the easier bit than the later cost-cutting, so that's still a challenge."
The U.K.'s largest lenders are in the process of erecting firebreaks between their retail and commercial operations and investment banking units to meet Bank of England rules that take force in 2019 designed to prevent another banking collapse or bailout by taxpayers. The measures will probably raise the cost of running capital-intensive fixed-income operations, which is leading some lenders to reconsider which services they offer to clients.
U.K. Prime Minister David Cameron is "not going to change" the rules to help investment banks, according to Davies. "They've decided on that legislation, it's gone through parliament. We're done with that, that's what's going to happen."
The rules "inevitably have an implication for the cost of capital in your investment bank because that can't be supported by the parent bank and won't be supported by the central bank," he said. "It's difficult for us now to be all things to all men. I suspect I'm a little bit pessimistic about U.K. investment banking at the moment."
Before it's here, it's on the Bloomberg Terminal.
LEARN MORE