Philippine Peso Completes Longest Losing Stretch Since 2005
by
Corporate demand for dollars fueling losses: ING Bank

Global funds are net sellers of local stocks this month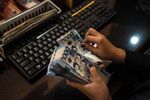 The Philippine peso weakened for an eighth day, its longest losing streak since June 2005, on dollar demand from local companies and as global funds pared stock holdings amid an emerging-market selloff.
Developing-nation equities and currencies headed for a third week of declines as the turmoil in financial markets in China, Asia's largest economy, damped risk appetite. Overseas investors have sold almost $40 million more Philippine shares than they bought in 2016, trimming holdings before Filipinos head to the polls in May this year to elect a new president. Five-year government bond yields climbed the most in a month on Friday.
"Corporate demand for dollars has been fueling the peso's fall," said Joey Cuyegkeng, an economist at ING Groep NV in Manila. "Sooner or later, we'll probably see political uncertainty related to the elections manifest itself."
The peso dropped 0.2 percent to 47.74 a dollar at the close of trading in Manila, according to the Bankers Association of the Philippines. It fell to as low as 47.785 earlier, the weakest level since November 2009. The currency lost 1.2 percent this week. It was among the best-performing emerging-market currencies over the last 12 months as remittances and the Philippines' resilient economy cushioned it from the impact of global headwinds.
ING's Cuyegkeng said he expects the peso to weaken 3 percent to 4 percent by end-2016 as the U.S. Federal Reserve raises interest rates and on risks emanating from China's economic slowdown and low oil prices.
Philippine government bonds declined. The five-year yield surged 49 basis points, the most since Dec. 18, to 4.41 percent, according to an end-of-day fixing from the Philippine Dealing & Exchange Corp.
Before it's here, it's on the Bloomberg Terminal.
LEARN MORE