GoPro's Achilles Heel: Video Editing Software Isn't Apple-Easy
by
As much as three hours to edit a two-minute scuba diving video

Without fixing software, GoPro could become niche player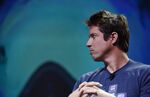 GoPro Inc.won Apple-style love from consumers and Wall Street alike because seemingly anyone with one of its tiny, rugged cameras could produce professional-quality movies of their exploits skiing, surfing or touring the African savanna. The company failed a crucial test, however: making it Apple-easy to edit and upload raw video.
Yes, the company has been widely criticized for not bringing out a new camera for Christmas. Its drone is at least six months away. And GoPro founder Nick Woodman is being urged to move quickly into virtual reality. But many analysts and consumers say the company's biggest challenge is software. Building a user-friendly interface -- a feat Apple has excelled at since its inception -- has taken longer than many investors and analysts expected, in part because it's much harder to manipulate data-hungry video than still images.
"This is probably something they should've done before they launched the very first product," said Michael Pachter, a Wedbush Securities analyst who says his family has three GoPro cameras and that his wife finds the software confusing. "Why do we like iPhones? Because they're intuitive and easy to use."
Tanking Shares
GoPro shares have tanked this week, including a 15 percent plunge on Jan. 14, thanks to disappointing sales during the important Christmas holiday shopping season. Investors are concerned about rising competition from smartphones and camera-equipped drones. As part of his efforts to refocus, Woodman is cutting 7 percent of the company's employees.
Wall Street is also skeptical about plans to build a media company around the action-packed GoPro videos online. On Jan. 14, Zander Lurie, who ran the entertainment operation, left the company.
Last year GoPro started selling a new iteration of its camera, the Hero4 Session, that was easier to use. But spokesman Jeff Brown acknowledged in a telephone interview Friday that the software needs to improve.
"It needs to become easier," he said. "There's two things people want. One is editing, you need to be able to quickly and easily put together a great edit, and second, you need to be able to post that into either your cloud or social media. We're working on addressing those."
When it filed to go public in 2014, GoPro touted the software in its prospectus: "Managing, editing and sharing engaging, high-quality content often requires substantial time, resources and skill. GoPro Studio and the GoPro App begin to address these pain points by offering intuitive, easy-to-use tools for managing, editing and sharing professional-grade footage."
Still Struggling
Today, users are still struggling to turn their clips into movies.
Marek Bronstring, a 32-year-old travel agent based in the U.K., is an enthusiastic photographer who knows his way around editing software. He likes the GoPro camera itself and says it defeated dust during a recent trip to a desert in Peru and Nicaragua. But he's far less kind about the editing software.
"It's kind of a confusing interface," he said. "When I first tried GoPro Studio, it took me a while to wrap my head around it."
Bronstring says it took him two or three hours to edit a two-minute scuba diving video and that it usually takes as long as 40 minutes to import the raw video to a computer and process it.
Geek Friendly
"I saw the CEO on the Colbert late show a while ago and he was talking about using it to make videos with their kids," he said. "But I think they need to be more like Apple -- other companies that streamline everything about their products. For me it's fine. I'm a bit of a geek and I like to figure stuff out. But it's not at the point where I can say to my parents, here you go, use it."
The big question for GoPro is whether the company can make the software more intuitive before the competition eats its lunch. To be fair, this isn't an easy task. It's much easier to build editing software for still photos. Meanwhile, consumers, having gotten used to easily editing and sharing snaps, may have unreasonably high expectations for video.
But unless Woodman & Co. solves the challenge, GoPro may be doomed to niche status rather than the mass-market phenomenon investors originally bet on.
"At some point, they need to make the decision: do they try to just make money and preserve cash and run a profitable, but small business?" said James Faucette, a Morgan Stanley analyst.
Before it's here, it's on the Bloomberg Terminal.
LEARN MORE